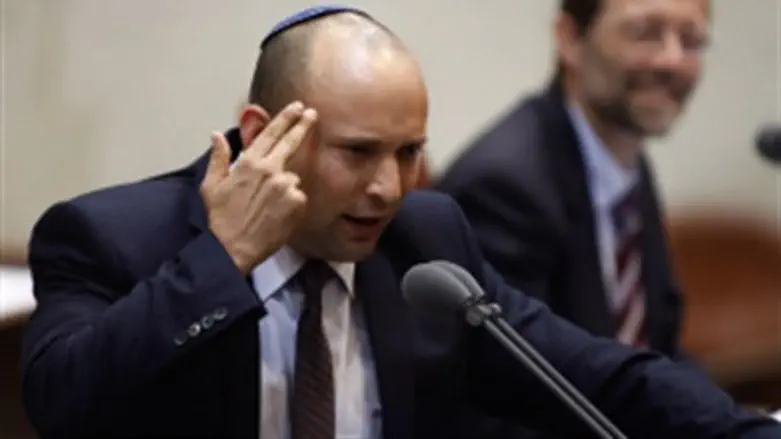 Naftali Bennett
Israel news photo: Flash 90
Economics Minister MK Naftali Bennett (Bayit Yehudi/Jewish Home) has reiterated his commitment to planned reforms which would see most hareidi-religious men enlisted into the army, in line with most other Israeli men.
"We are determined to advance the reforms for equalizing the share of the burden," he said in an interview with Army Radio today (Monday).
"It is important to note that 32% of First Graders are hareidim. The State of Israel cannot survive if these children are not integrated into society," he warned.
The second session of the 19th Knesset will commence at 4pm today at a meeting attended by Israel's President Shimon Peres, ending the long summer recess.
The upcoming session will see MKs discussing a host of contentious topics, among them measures to enlist hareidi yeshiva (Torah academy) students, who until now were granted a special exemption from army service in favor of full-time Torah learning.
Those measures have long been unpopular among other Israeli Jewish men, who are obligated to enlist for three years in the Israeli Defense Forces.
Lieberman verdict expected

The session's headlines are also likely to dominated by the culmination of the criminal case filed against head of Yisrael Beiteinu party and former foreign minister MK Avigdor Lieberman.

The indictment follows allegations that Lieberman received confidential information concerning previous charges of fraud he faced from former Ambassador Ze'ev Ben-Arie, and that he then worked to promote Ben-Arie without revealing that he had received information from him illegally.

Lieberman was cleared of the previous fraud charge but indicted of breach of trust.
Until the verdict in Lieberman's case is announced and perhaps only after news of any possible criminal punishment is announced, it will not be possible to assess the damage done to his political career.

In the run-up to the last elections Lieberman resigned his post as Foreign Minister; if acquitted, it has been agreed that Lieberman will resume the post.
The verdict in the trial of Avigdor Lieberman will be handed down on November 6, at the Jerusalem Magistrates Court.