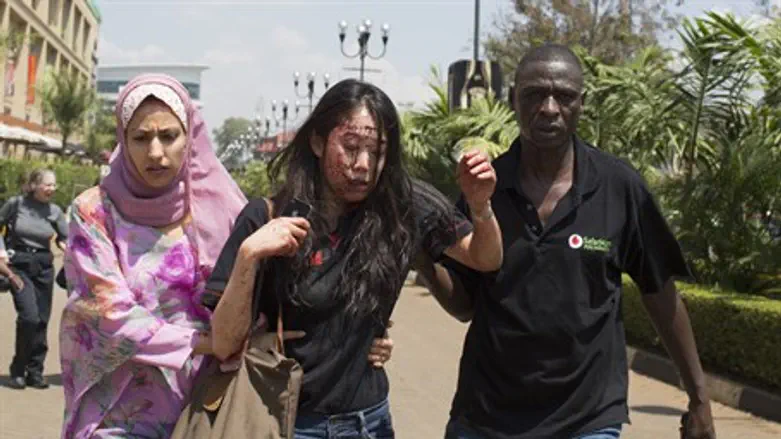 Woman evacuated from site of Nairobi attack
Reuters
Kenyan police have announced that Samantha Lewthwaite, the fugitive British national who has been dubbed the "white widow," has been added to list of names wanted by Interpol.
The news comes following speculation that Lewthwaite was involved in the deadly attack on the Westgate shopping Mall in the Kenyan capital Nairobi which killed 72 people including six Kenyan soldiers. British Police have suggested Lewthwaite could have been involved in the incident.
Interpol said following the Kenyan request to add Lewthwaite to its list of wanted suspects, that it had immediately alerted its 190 member states. The French based agency said photographs of Lewthwaite had been posted both in a headscarf and with her hair uncovered.

On Monday, Kenyan Foreign Minister Amina Mohamed said in an interview with PBS that "two or three" Americans were among the attackers who carried out the Nairobi mall attack, as well as a British woman.

Gunmen began the bloody assault on the Westgate Mall by hurling grenades and firing indiscriminately with AK-47s when the building was packed with both locals and tourists last Sunday afternoon.
Lewthwaite is the daughter of a British army soldier, who was born in Northern Ireland and spent her teenage years living in a quaint English village. She later converted to Islam and is the widow of one of "7/7 bombers" who attacked London's transportation system in July 2005.
Despite condemning the acts of her husband as "abhorrent," Lewthwaite has been on the run in Africa for two years after she was accused of plotting to bomb tourist sites in Kenya, and has evaded capture on a number of occasions, mocking her pursuers on social media.
Kenyan officials suspect she joined the Somali-based Al Shabaab Al Qaeda linked group which carried out last week's terrorist attack in Nairobi. Al Shabaab is seeking to establish an Islamic state in Somalia, where some 4,000 Kenyan soldiers are fighting terrorist groups alongside the Somali army.
The Kenyan Red Cross said Thursday that 61 people remained missing following the four-day siege at the Westgate mall.  Forensic experts in Kenya, aided by a team from Israel are still digging through the rubble of an area of the shopping mall that was partially destroyed during the siege.

Al Shabaab told Arab satellite network Al Jazeerathat the Westgate mall was chosen as the site for the recent attack because "it is a place where there are Jewish and American shops."