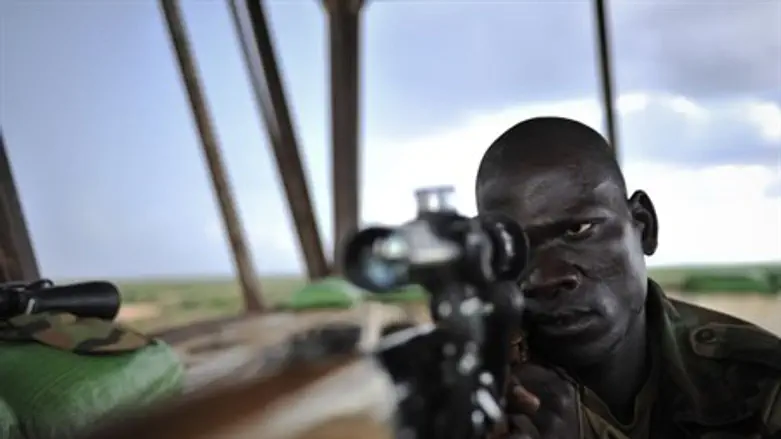 Soldier fighting al-Shbaab (file)
Reuters
In Nairobi, Kenya, at least 30 people are reported dead in an apparent terrorist attack in a shopping center. A BBC reporter said that a photojournalist who fled the mall reported that he saw about 40 bodies inside the mall.
One Israeli, who operates a stand selling Dead Sea products, was reportedly slightly wounded. Three other Israelis reportedly escaped the mall unharmed.
Gunmen threw grenades and opened fire just before 1:00 p.m. Saturday in an attack at a prestigious mall in Kenya's capital that was hosting a children's day event. The attackers remained inside the mall as the military took positions around it hours after the attack.
The attack took place at the Westgate mall, which is frequented by expatriates and well-to-do Kenyans, in Nairobi's affluent Westlands neighborhood.
A Kenya Red Cross official said Saturday that at least 30 people were killed in the attack. A witness said that gunmen armed with AK-47s and grenades told Muslims to stand up and leave, and that non-Muslims would be targeted.
"We are treating this as a terrorist attack," said police chief Benson Kibue, adding that there are likely no more than 10 attackers involved.
Police did not say what group was responsible for the attack.
A spokesman for the U.S. Embassy in Nairobi told CBS News that the embassy wasn't sure whether any Americans were killed or injured in the attack and that the embassy was in the process of gathering information.
Somali rebel group al-Shabab vowed in late 2011 to carry out a large-scale attack in Nairobi in retaliation for Kenya's sending of troops into Somalia. A senior figure in the al-Shabab has told the BBC that the group is indeed behind the attack in Nairobi.