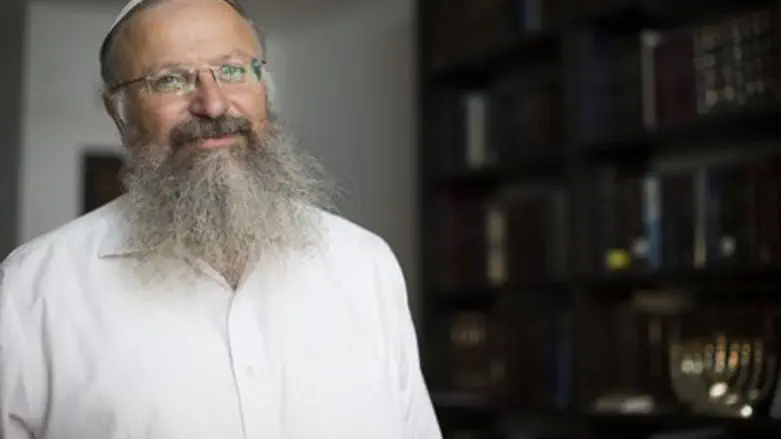 Rabbi Shmuel Eliyahu
Israel news photo: Flash 90
Rabbi Shmuel Eliyahu, the chief rabbi of Tzfat, has publicly declared his support for civil disobedience in the face of administrative distancing orders.
The military is currently able to issue distancing orders to Judea and Samaria (Shomron) residents without bringing charges against them or allowing them a hearing. While lawmakers have urged the army to use administrative orders only as a last resort, in practice, several men in Judea and Samaria have been repeatedly barred from the area in which they live without ever facing charges, or even an explanation from authorities.
"Any order telling a Jew to leave his home has a black flag waving over it," Rabbi Eliyahu declared, referencing IDF training which teaches soldiers to disobey orders if a moral "black flag" marks them – that is, if they are clearly immoral.
"This is an order that contradicts the word of G-d," he declared. "It is worth less than the dust on the ground."
Rabbi Eliyahu expressed his condemnation of distancing orders while visiting Boaz Albert, a farmer from the town of Yitzhar who was given a distancing order several weeks ago. Albert has declared that he will not abide by the order.
He was violently arrested for violating the order in an incident that brought the question of police violence to the headlines, but has said that the arrest will not dissuade him from returning home despite the order.
Rabbi Eliyahu and others came to expressed support for Albert. They danced and sang with him, and visited his vineyard, where Rabbi Eliyahu said a blessing and picked a cluster of grapes.
"We came to give our support, and we were very impressed by this place and by the vineyard. We came to be part of the blessing here," he told Arutz Sheva.
"We came to tell Boaz, 'You are our brother,'" he added.