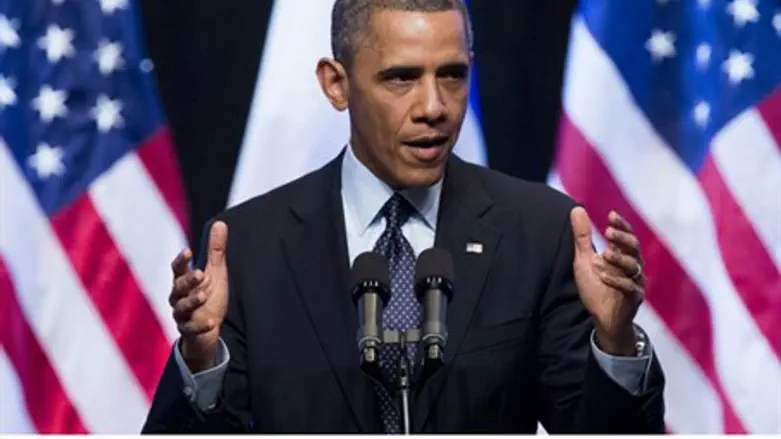 U.S. President Barack Obama
Flash 90
Jewish groups in the United States on Tuesday gave backing to President Barack Obama as he seeks approval from Congress to launch a military strike in Syria.
The American Israel Public Affairs Committee (AIPAC), released a statement in which it urged Congress "to grant the President the authority he has requested to protect America's national security interests and dissuade the Syrian regime's further use of unconventional weapons."
"The civilized world cannot tolerate the use of these barbaric weapons, particularly against an innocent civilian population including hundreds of children," said AIPAC.
"Simply put, barbarism on a mass scale must not be given a free pass."
"This is a critical moment when America must also send a forceful message of resolve to Iran and Hezbollah -- both of whom have provided direct and extensive military support to Assad," said the group. "The Syrian regime and its Iranian ally have repeatedly demonstrated that they will not respect civilized norms.  That is why America must act, and why we must prevent further proliferation of unconventional weapons in this region."
"America's allies and adversaries are closely watching the outcome of this momentous vote. This critical decision comes at a time when Iran is racing toward obtaining nuclear capability. Failure to approve this resolution would weaken our country's credibility to prevent the use and proliferation of unconventional weapons and thereby greatly endanger our country's security and interests and those of our regional allies," said the statement.
The Anti-Defamation League (ADL) also expressed its strong support for Obama, saying, "We welcome President Obama's demonstration of U.S. leadership in responding to the use of chemical weapons in Syria."
"The president clearly and unequivocally identified the significant national security interests of the United States and moral imperative underlying his decision to use military force against Syria. We support the president's decision, said ADL.
"Congress should act swiftly to add its voice to hold President Bashar al-Assad accountable for the wanton slaughter of his own citizens," noted Barry Curtiss-Lusher, ADL National Chair and Abraham H. Foxman, ADL National Director.
The statements came as officials in the Obama administration were making their case for a military strike in Syria in a first public congressional hearing on the issue.
U.S. Defense Secretary Chuck Hagel warned that failure to take action over Syria's use of chemical weapons would damage the credibility of America's pledge to prevent Iran from obtaining a nuclear weapon.
Also participating at the hearing was Secretary of State John Kerry, who clarified that President Barack Obama was neither proposing nor leaving the door open to putting troops on the ground in Syria.
"I want to emphasize something...This authorization does not contemplate and should not have any allowance for any troop on the ground. What I was doing what hypothesizing on the potential of what might happen at some point in time," Kerry said.