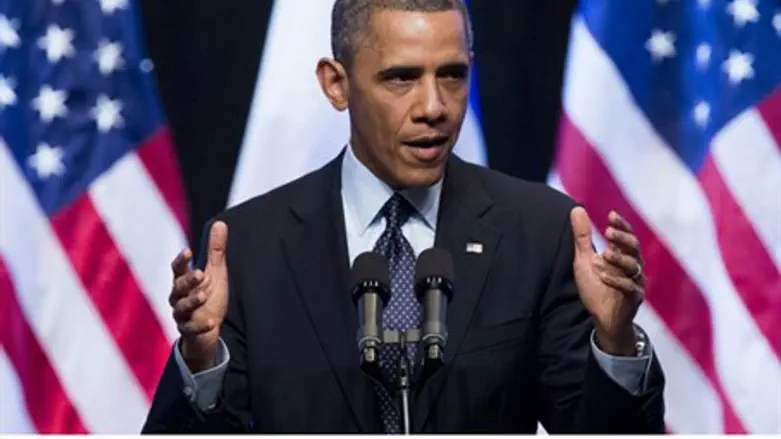 U.S. President Barack Obama
Flash 90
U.S. President Obama met on Saturday with top national security advisers following widespread reports about the Syrian government using chemical weapons on civilians.
The president will continue to gather facts before deciding on a course of action, the White House said, according to Fox News.
The reports of thousands killed or stricken by chemical weapons Wednesday near Damascus is the latest allegation about such tactics in the Middle East country's roughly two-year-long civil war.
A preliminary assessment made by U.S. and allied intelligence agencies has concluded that chemical weapons were indeed used by Syrian forces in an attack near Damascus this week.
It is believed the attack was carried out with high-level approval from the government of President Bashar Al-Assad.
Obama said last year that the use of chemical weapons by Syrian President Bashar Assad would "cross a red line."  However, the White House has been reluctant to take direct military actions, instead supplying rebel forces with non-lethal aid, weighing military options and trying to garner international support.
The president and his National Security Council considered eyewitness accounts and medical-records reports but "the U.S. intelligence community continues to gather facts to ascertain what occurred," the White House said Saturday.
In addition to the president holding the meeting, he spoke Saturday with United Kingdom Prime Minister David Cameron.
The leaders talked about shared security challenges, including the continued violence in Syria, and expressed their "grave concern" about the reported use of chemical weapons. And they will continue to consult closely about "possible responses by the international community," the White House said.
The White House meeting was attended by at least 15 members of the president's security council, including Vice President Joe Biden, Secretary of State John Kerry and Defense Secretary Chuck Hagel.
Hagel suggested Friday that the Pentagon might move Naval forces closer to Syria in preparation for a possible decision by Obama to order military strikes.
However, U.S. defense officials told The Associated Press on Saturday that the Navy has already sent a fourth warship armed with ballistic missiles into the eastern Mediterranean Sea, but without immediate orders for any missile launch into Syria.
In a CNN interview, Obama on Friday called the alleged use of chemical weapons against civilians "a big event of grave concern," but was very cautious as regards the possibility of using force in Syria, noting that there is still a war going on in Afghanistan.