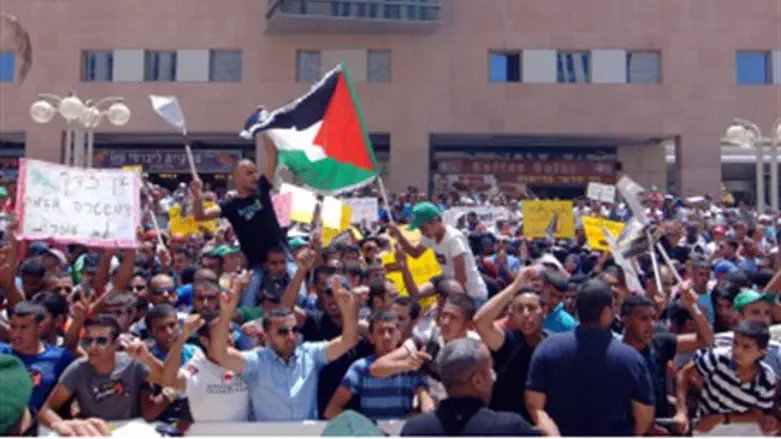 Bedouin protest
Flash 90
Thousands of Bedouin Arabs marched in the southern Israeli city of Beersheba on Thursday to protest a government plan to settle tens of thousands of their desert-dwelling people in permanent communities.
The plan is seen by nationalists as a disastrous cave-in, who see the Bedouin as taking over the Negev by force, but the Bedouin see it differently.
Public radio said the protesters carried Palestinian flags and banners of the Israeli Islamic movement, chanting "With our blood and our spirit we will redeem the Negev."
The radio station did not give a number of participants, saying only that "thousands" filled the city center, blocking traffic.
Police said about 700 attended the main demonstration with another 2,000 people in the surrounding streets.
85,000 Bedouin children also stayed away from school as part of a community-wide general strike, with a large number of women and children at the rally.
The cabinet approved the resettlement plan in January and it is now before parliament.
The government has said it would "as much as possible" grant legal status to Negev villages that are currently unrecognized by the authorities if they met a minimum population criteria.
The Regavim movement has been issuing calls to enforce laws against unauthorized construction in the Arab and Bedouin sectors, where authorities sometimes avoid law enforcement altogether in order to avoid clashes. The group reports that there are 2,100 Bedouin communities in the Negev that were established without authorizationand which cover a total of over 800,000 dunams.