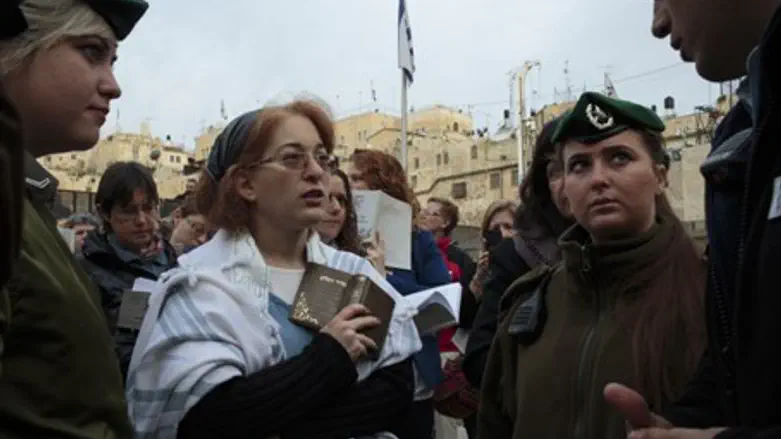 Women of the Wall (archive)
Israel news photo: Flash 90
Conflict was reported at the Kotel (Western Wall) on Friday as the Women of the Wall (WoW) group attempted to hold a non-traditional prayer gathering after receiving a Supreme Court verdict favorable to their plans.
Dozens of police and Border Police officers were at the scene to ensure that the prayers went smoothly. However, despite their presence, WoW supporters reported being insulted by some of the female worshipers.
Some said other women had even thrown objects at them, but other observers nearby did not see the alleged actions.
Three people have been arrested in connection to the disturbances.
There were thousands of hareidi-religious and religious Zionist young women at the Kotel to show their support for maintaining traditional Jewish practice at the wall. Leading hareidi-religious rabbi Rabbi Aharon Leib Steinman had called on young women to gather at the Kotel on Friday. The Women for the Wall organization, a Jewish women's group which supports keeping the Kotel a place for traditional Jewish prayer, had backed the gathering as well.
Both Rabbi Steinman and Women for the Wall had emphasized the need for worshipers to remain calm and avoid conflict with WoW.
Members of Women of the Wall hold public all-female Torah readings and often wear tallit and tefillin, practices which are technically permissible under Jewish law in certain circumstances, but which are not traditionally observed by most orthodox Jewish women. Many orthodox women have complained that they find the group's prayers distracting. Women's groups are not a halakhic quorum and therefore must not say the blessings on the Torah or the kaddish and kedusha prayers when not participating in a halakhically defined quorum, so that the WoW service defies Jewish law.
For years WoW was given a separate prayer space at Robinson's Arch, which is part of the same wall around the Temple Mount which the Kotel belongs to, thus allowing the group to hold its prayers near the Temple Mount while maintaining the women's prayer section at the Kotel as a place for traditional silent prayer. Robinson's Arch is to be the future site of mixed male-female prayer gatherings and WoW prayers as well, but only after renovation.
MK Miri Regev, head of the Knesset's Interior Committee, was at the Kotel to observe the implementation of the court order first hand. She called for all present to respect the Attorney General's decision to support WoW's one-time observance, but said she understood now why they cannot continue to pray there as it offends so many worshipers.
"Tensions are high and there have been upsetting occurrences," MK Regev reported from the Kotel.
MK Rabbi Eli Ben-Dahan (Bayit Yehudi) said, "King David purchased Jerusalem, with money from the entire nation of Israel, so that every Jew would have an equal share in Jerusalem, and of course at the Western Wall. We all have to make an effort to reach a compromise, so that we do not increase conflict at this holy site."