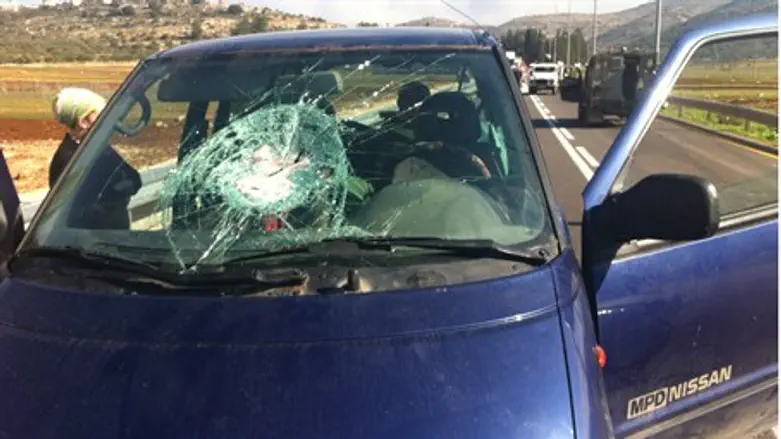 Car after rock attack
Israel news photo by Ephriam Menashri
Shomron (Samaria) Regional Council head Gershon Mesika says it's time to take off the velvet gloves when dealing with road terror, and "shoot to hit" attackers who are trying to murder Israeli motorists traveling on the roads of Judea and Samaria.
The IDF must begin responding to rock attacks with live fire, Mesika argued Sunday in an appeal to Brigadier-General Hagai Mordechai, head of the IDF's Judea and Samaria division.
Soldiers should aim to hit rock throwers, he said.
Mesika warned that the lack of a harsh response to "rock and boulder terrorism"  has created a situation of "anarchy" -- one that has become a deadly threat.
"How many civilians need to be hurt before terrorism is treated as terrorism?" he asked. "The Palestinian Authority is daily increasing the rock and boulder terrorism, and only uncompromising determination, and changing the orders regarding opening fire, will stop it. The defense establishment must change the way it conceptualizes this," he added. "Citizens traveling on roads deserve to be able to expect determined, preventative measures to be taken against those who try to hurt them."
Mesika's appeal came in the wake of a spate of attacks in which a number of Israeli civilians were wounded, including a toddler who was critically injured.
A 25-year-old woman and 4-year-old boy were wounded in two separate rock attacks on Saturday night in Samaria. Both were rushed to hospitals for additional medical care following treatment at the scene.
In addition, three-year-old toddler Adelle Biton remains in critical condition following a rock attack two weeks ago in which her family was targeted as they drove along the highway near the city of Ariel. In addition to Adelle, her mother and two of her older sisters were all wounded.
The incidence of road terror -- in the form of rock attacks, drive-by shootings and firebombings -- has increased on the roads of Judea and Samaria over the past year, escalating further in the past few months with calls from radical Islamist extremists for a third intifada.
Rock attacks are as lethal a form of intended murder as any other and at times have succeeded in the attempt, as demonstrated in the case of Asher Palmer and his baby son Yonatan, who were killed last year in a drive-by rock attack that at first appeared to be a simple motor vehicle accident because the car careened out of control and crashed off the road. Police later were forced to investigate further due to pressure by media exposure from Arutz Sheva, and corroborated the evidence seen initially by first responders and others pointing to the deliberate, murderous attack.