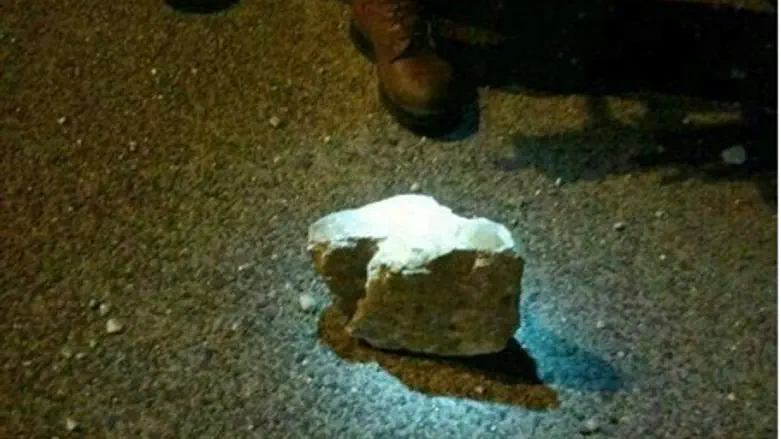 Rock found next to the Bitons' car
Samaria Regional Authority
A Jewish baby targeted by Arab terrorists continues to fight for her life.
Two-year-old Adelle Biton was hurt Thursday when the car she was in veered off the road and into a truck that was standing on the road's shoulder, as a result of an ambush by Arab youths. The Arabs were hurling rocks at passing cars on the Trans-Samaria Highway (Route 5), at the Gitai Avisar Junction near Ariel.
Adelle's mother, Advah, who was driving the car, also suffered moderate to serious injuries, and two of Adelle's sisters, Naama (6) and Avigayil (4), were moderately wounded.
Adelle underwent a second head operation just before the Sabbath began.
Residents of Samaria asked the public to continue to pray for Adelle Bat Advah.
Advah is a doctor of chemistry and teaches at several academic institutions.
Residents of Samaria report a very severe spike in the frequency of rock attacks on Israeli cars in the area. Soldiers are under extremely strict orders not to use force against marauding Arabs unless a situation is clearly life threatening. Soldiers who fire at Arabs are often put on trial by the Military Prosecution, which appears to have adopted an extreme leftist ideology.