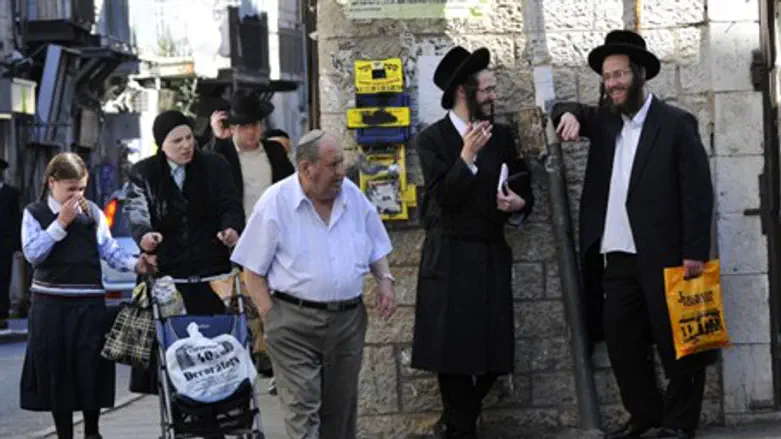 Hareidi Jews in Mea Shearim
Israel news photo: Flash 90
Hareidi Jews are portrayed very poorly on Israeli television, a survey of TV viewers found. Among the largely secular viewers of the nightly 8PM news broadcasts on Channels 2 and 10, some 50% said that hareidim got the rawest break in the media – far more than any other.
Among the offenses of the media against hareidim: Portraying them as "religious fanatics" who are unwilling to acknowledge the legitimacy of other Jews as faithful to their religion, portrayals of hareidim as rock throwing anti-modernists, and an image of hareidim as disloyal to the state and its laws.
While many of the viewers polled said that those descriptions were appropriate for at least some members of the hareidi community, their personal experience indicated that a more nuanced image would be more appropriate.
Also victims of media bias are residents of Judea and Samaria, whom 43% of those polled said were unfairly portrayed. The poll also said that 40% of Ethiopian immigrants were generally poorly portrayed, while 33% said that Israeli Arabs also were victims.
Ilan Avisar, Chairman of the Second Television and Radio Authority, responsible for Channels 2 and 10, said that the Authority was "shocked to discover that hareidim were the poorest portrayed group, and that Arabs were far better portrayed."
"The Authority will investigate the results of this poll and examine the methods that the news departments use, and at the same time we will work towards the improvement of the situation," he said.