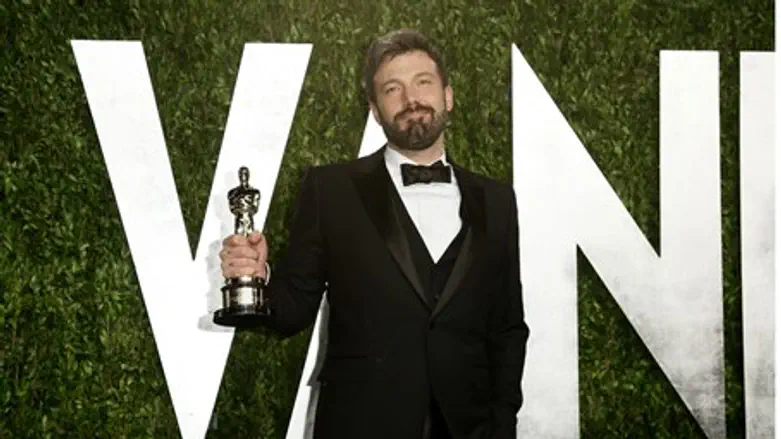 Director Ben Affleck with the Oscar
Reuters
Iran, upset over the film "Argo" winning the Academy Award for best movie, criticized Hollywood on Monday, with a senior official saying the film "lacks artistic value", AFP reported.
"Argo," which was directed by Ben Affleck, centers around the 1979 hostage crisis, during which Iran's revolutionary students sparked a political crisis in the United States when they took 52 American diplomats hostage for 444 days.
The film reveals the story of the CIA-backed mission to rescue six American diplomats who had sought refuge from enraged Iranian mobs in the home of the Canadian ambassador, following Iran's Islamic revolution.
"This anti-Iran movie lacks artistic value," Culture and Islamic Guidance Minister Mohammad Hosseini was quoted as saying on Monday by the official IRNA news agency.
"It was awarded the top honor through a massive financing and advertisement campaign ... so that it attracts more attention worldwide," said Hosseini, who also accused Hollywood of targeting the Islamic Republic.
Iran's state television earlier slammed the 85th Academy Awards as "the most political Oscar ever," as it reported the news that "Argo" had won the coveted best film Oscar.
The broadcaster accused Affleck of specializing "in exaggeration, blowing things out of proportion and creating false scenes."
The movie's Oscar win was announced by the U.S. first lady Michelle Obama, in an unprecedented satellite appearance from the White House. Iran's state television said her involvement "increases speculation that awarding this movie was politically motivated."
The Fars news agency, affiliated with the Revolutionary Guards, branded "Argo" as an "anti-Iran movie" financed by a "Zionist company" -- in a reference to the California-based Warner Bros. which produced it.
Iran and the United States are locked in a tense showdown over an array of issues, including Tehran's nuclear ambitions which the West and Israel suspect are aimed at military objectives, despite Iran's repeated denials.
Iran's contempt of Hollywood is no secret.
Supreme leader Ayatollah Ali Khamenei last Wednesday criticized it as a "totally political" machine that propagates policies brewed in Washington.
"Hollywood is totally political. Otherwise it would have let our anti-Zionist movies participate in film festivals," he said in remarks reported by his Khamenei.ir website and quoted by AFP.
"Producing political anti-Iranian movies and giving awards to anti-Iranian movies is a clear sign that politics is mixed with art in the U.S.," Khamenei added in an allusion to "Argo."
Last month it was reported that the Iranian government is planning to finance a film that would correct what it termed the "historical inaccuracies" of "Argo."
"This film, which will be a huge production, should be an appropriate answer to the film 'Argo,' which lacks a proper view of historical events," its director, Ataollah Salmanian said.