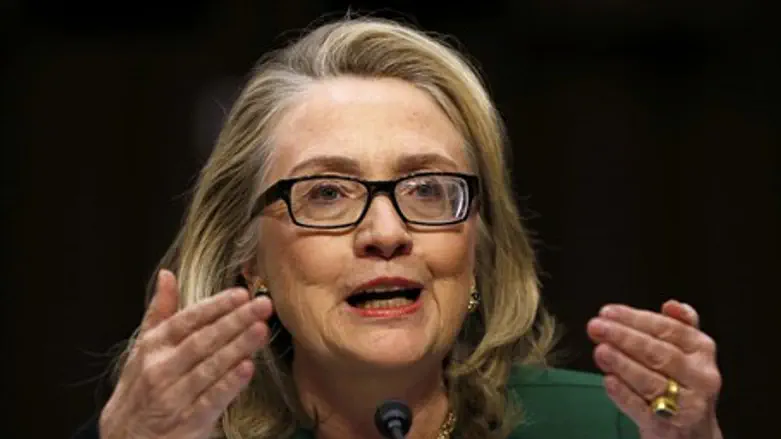 U.S. Secretary of State Hillary Clinton testi
Reuters
In highly anticipated testimony before the Senate Foreign Relations Committee, Secretary of State Hillary Clinton took responsibility for the September 11, 2012 attack on the U.S. consulate in Benghazi and cited a "personal" commitment to improving security provisions for U.S. diplomatic missions overseas.
"For me, this is not just a matter of policy … it's personal," Clinton said. "I stood next to President Obama as the Marines carried those flag-draped caskets off the plane at Andrews. I put my arms around the mothers and fathers, sisters and brothers, sons and daughters."
Clinton defended the administration's handling of events surrounding the attack, which resulted in the brutal death of four Americans, including ambassador Christopher Stevens, and rejected Republican allegations that the Administration engaged in a cover-up following the attack.
"As I have said many times since September 11, I take responsibility. Nobody is more committed to getting this right. I am determined to leave the State Department and our country safer, stronger, and more secure," she said, vowing to ensure that there will be no lapses in future Benghazi security.
"Taking responsibility meant moving quickly in those first uncertain hours and days to respond to the immediate crisis and further protect our people and posts in high threat areas across the region and the world. It meant launching an independent investigation to determine exactly what happened in Benghazi and to recommend steps for improvement. And it meant intensifying our efforts to combat terrorism and support emerging democracies in North Africa and beyond."
Clinton said the attack was not an isolated event, but that it is a microcosm of the rising militancy in the wake of the Arab Spring,
"Any clear-eyed examination of this matter must begin with this sobering fact: Since 1988, there have been 19 Accountability Review Boards investigating attacks on American diplomats and their facilities," she said. "Concerns about terrorism and instability in North Africa are not new. Indeed they have been a top priority for our entire national security team. But after Benghazi, we accelerated a diplomatic campaign to increase pressure on al Qaeda in the Islamic Maghreb and other terrorist groups across the region."
She urged lawmakers to learn from the attack and not to withdraw from the international community.
"The United States must continue to lead… in the Middle East and all around the globe," she said. "We have come a long way in the past four years. We cannot afford to retreat now. When America is absent, especially from unstable environments, there are consequences. Extremism takes root, our interests suffer, and our security at home is threatened."
Questioned by Sen. Ron Johnson, a Republican from Wisconsin, on why the administration initially gave an inaccurate version of the events that took place, Clinton responded by saying, "We had four dead Americans. Was it because of a protest or because of guys out for a walk one night and decided to go kill some Americans?"
"At this point what difference does it make, Senator?" she asked Johnson. "We didn't have a clear picture."
Clinton's testimony had been postponed after contracted a stomach virus, fell, and suffered a concussion. She was briefly hospitalized in New York on Dec. 30 and was treated for a blot clot. She returned to work Jan. 7.