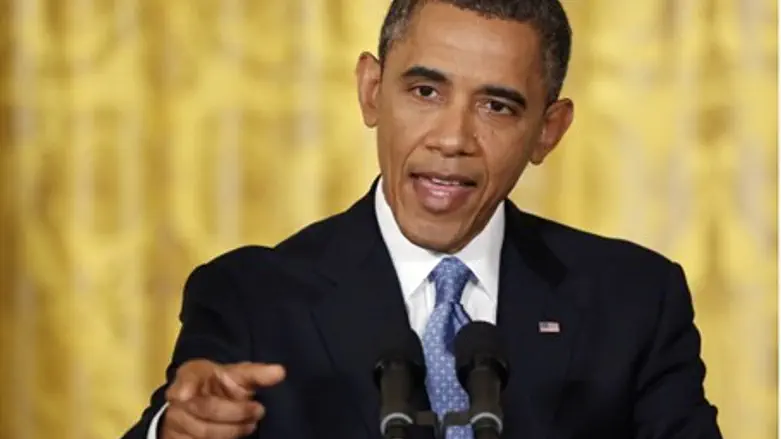 Barack Obama
Reuters
The Atlantic's Jeffrey Goldberg, writing in Bloomberg View, has revealed that U.S. President Barack Obama said repeatedly recently that Israel does not know what its own best interests are.
When informed about the Israeli decision to approve construction plans in the E1 area, "Obama, who has a famously contentious relationship with the prime minister, didn't even bother getting angry," wrote Goldberg. "He told several people that this sort of behavior on Netanyahu's part is what he has come to expect, and he suggested that he has become inured to what he sees as self-defeating policies of his Israeli counterpart.
"In the weeks after the UN vote, Obama said privately and repeatedly, 'Israel doesn't know what its own best interests are.' With each new settlement announcement, in Obama's view, Netanyahu is moving his country down a path toward near-total isolation."
According to Goldberg, Obama "has become convinced that Netanyahu is so captive to the settler lobby, and so uninterested in making anything more than the slightest conciliatory gesture toward Palestinian moderates, that an investment of presidential interest in the peace process wouldn't be a wise use of his time."
"For Israel," Goldberg predicts, "the short-term consequences of Obama's frustration are limited. The U.S. won't cut off its aid to Israel, and Obama's effort to thwart Iran's nuclear ambitions will continue whether or not he's fed up with Netanyahu.
"But it is in terms of American diplomatic protection – among the Europeans and especially at the UN – that Israel may one day soon notice a significant shift."
Goldberg warns the U.S. may not support Israel in U.N. votes like the one that recently affirmed the PLO's nation status, and that Obama may eventually offer "a public vision of what a state of Palestine should look like," in which he will affirm that it should have its capital in East Jerusalem.