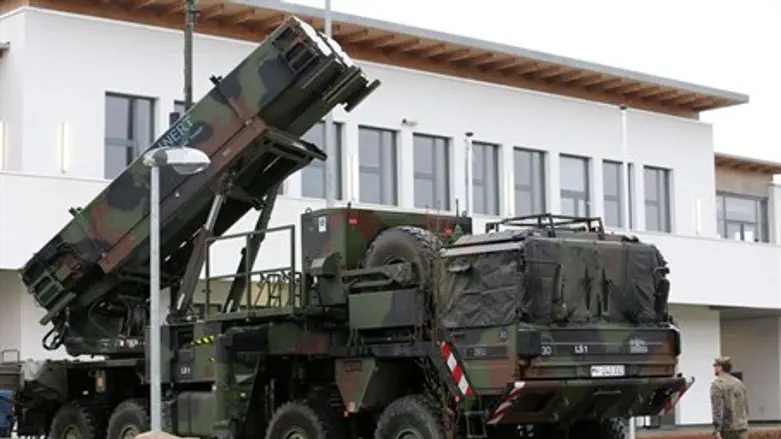 Patriot missile
AFP photo
The deployment of Patriot missiles in Turkey is designed to protect Israel from Iranian threats, Iran charged on Sunday, according to the Turkish daily Hurriyet.
Speaking to Lebanon's Al-Manar TV station, Iranian Foreign Ministry spokesperson Ramin Mehmanparast was quoted as having said the missiles were "placed by NATO and the West to protect Israel" against possible incoming Iranian missiles.
Iran believes Turkey would not permit its airspace to be used in an attack on the Islamic Republic, Mehmanparast said, but added that the control of the Patriots was not in the hands of Turkish authorities.
The United States began deploying the missiles in Turkey over the weekend, ostensibly to protect the country against any possible threats from neighboring Syria amid the Arab republic's civil war, Hurriyet reported.
The U.S. will transport around 400 troops to Turkey over the next several days to operate two Patriot batteries. Additional equipment will arrive by sea later in January.
NATO agreed in December to deploy Patriot missiles along the border of Turkey as requested by Ankara. Germany, the Netherlands and the United States have agreed to provide the missile batteries, which would come under NATO command.
Iran, one of the most powerful allies of the Assad regime in Syria, has warned that the deployment of Patriots in Turkey is a "provocative" action which could bring about "uncalculated" results.
Iranian President Mahmoud Ahmadinejadrecently cancelled a scheduled visit to Turkey, likely because of the Patriot deployment. The cancellation of Ahmadinejad's visit raised Turkish-Iranian tensions to new heights.
Syria has said that Turkey's plans to deploy Patriot missiles along its border are "a new act of provocation."