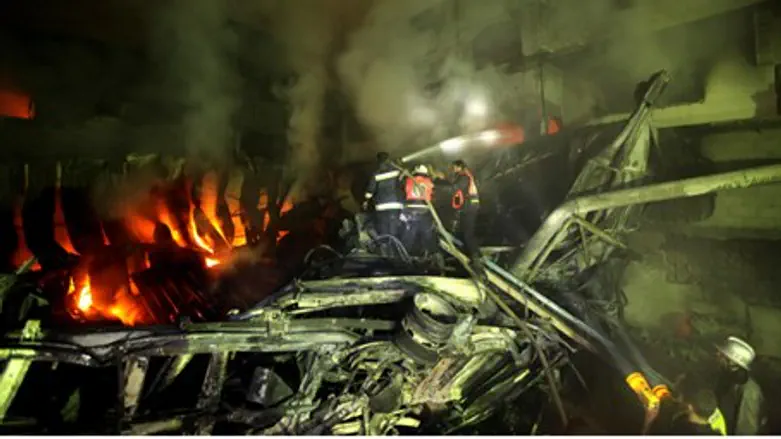 Aftermath of IAF airstrike in Gaza
Flash 90
Three U.S. Navy amphibious warships are returning to the eastern Mediterranean to remain on standby in the event they are needed to assist Americans leaving Israel in the coming days, two U.S. officials told CNN on Monday.
The officials stressed that an evacuation remains an extremely remote possibility and the Obama administration is not currently planning for one.
Americans who wish to leave the region now are able to do so using commercial airlines.
The decision to send the ships even if the event is such a remote contingency underscores the growing concern about where the Israel-Gaza conflict could be headed, noted CNN.
The IDF continued Operation Pillar of Defense on Monday, attacking dozens of targets in Gaza.
The targets include hidden launchers, terrorist training camps, weapons storage sites and police stations belonging to Hamas.
"This is due diligence. It is better to be prepared should there be a need," one official told CNN regarding the warships. Both officials said the ships would be used only for assisting Americans and not for any combat role.
The most immediate impact will be on the ships' crews and the estimated 2,500 Marines on board. They had been scheduled to return to Norfolk, Virginia, just after the Thanksgiving holiday this Thursday; their homecoming will now be delayed several days depending on events, the officials said.
CNN reported that the ships involved are the USS Iwo Jima, the USS New York and the USS Gunston Hall. At the end of last week the ships were west of Gibraltar, before the decision was made to turn them around and send them back to the eastern Mediterranean, where they will remain for now.
The U.S. military also maintains three to four ships off the coast of Israel that are capable of shooting down ballistic missiles. That deployment has stretch for some months in the face of a potential ballistic threat from Iran.
Yael Feldboy, Senior media specialist in the Tel Aviv US Embassy told Arutz Sheva that the report is untrue, adding that "forces in the Mediterranean are located there as a prudent measure to allow the Navy/Marine Corps team to respond to any crisis or contingency, if directed."