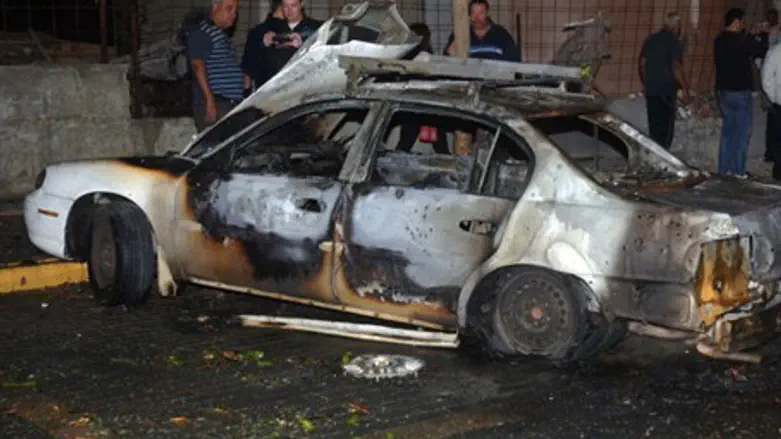 Car Hit by Terrorists' Rocket
Flash 90
Gaza-based terrorists fired more than 100 rockets at southern Israel's communities from Wednesday evening until Thursday morning.
Israeli police reported that 104 rockets were counted as of 6:40 a.m. (local time) Thursday morning.
The "Red Alert" siren was heard in Be'er Sheva shortly after 2:30 a.m. Two Grad missiles were then fired at the city. One of them was intercepted by the Iron Dome anti-missile defense system and another exploded in an open area. There were no physical injuries.
Shortly before 3:00 a.m., another missile was fired at Be'er Sheva. It was intercepted by the Iron Dome system.
Two additional rockets were fired at Be'er Sheva after 6:00 a.m. Iron Dome intercepted them.
Five Qassam rockets were fired towards the Eshkol Regional Council throughout the night. They exploded in open areas, causing no physical injuries or damages.
Iron Dome was able to intercept 20 of the rockets that were fired at Israel. In at least two cases, rockets hit populated areas in Ashdod and Be'er Sheva. Damage was caused to a building in Ashdod and a parked vehicle in Be'er Sheva.
Magen David Adom paramedics treated 14 people, including two who suffered minor injuries from broken glass or from falling down stairs while rushing to shelters. 12 people were treated for shock.
Gaza terrorists also fired a rocket at Dimona, where Israel's nuclear reactor is located. The rocket fell wide of its mark and caused no casualties or damage. Channel 2 said this was the first time a terror rocket was fired at the sensitive site.
Rockets also hit Sderot, Ofakim, and communities in the Gaza Belt.
The Home Front Command announced Wednesday that following the security situation in the south and the beginning of the military operation 'Pillar of Defense' in Gaza, there will be no school Thursday for all school districts within 7-40 kilometers of Gaza. Classes at the Ben Gurion University in Be'er Sheva will be cancelled as well.
In addition, for the safety of the population, a ban was placed on any large gatherings of 100 or more people. A ban was also placed on activities in shopping centers and all non-essential jobs will be closed.