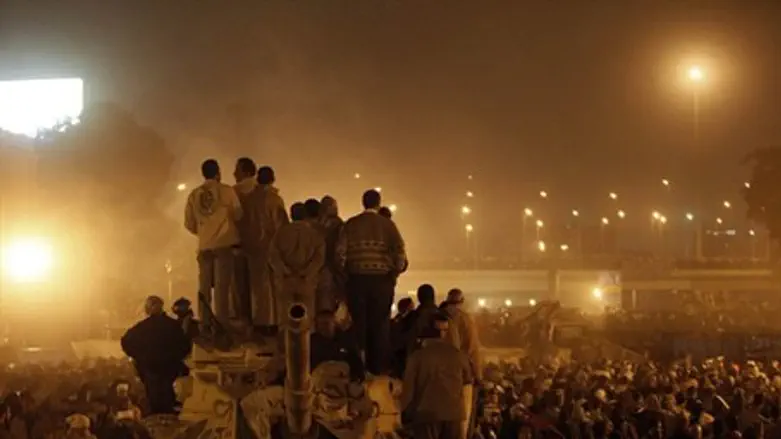 Protests in Cairo's Tahrir Square in February
AFP/File
Egypt's Muslim Brotherhood, the parent movement of Hamas and the movement to which President Mohammed Morsi belongs, sharply criticized Israel on Tuesday over the escalation in the south.
In a statement released by the movement it accused the leadership in Jerusalem of conducting air strikes in Gaza in an attempt to gain political capital ahead of the upcoming elections. The movement did not condemn the constant rocket fire by Gaza terrorists at southern Israel.
The statement by the Muslim Brotherhood's Freedom and Justice Party defined Israel as a "Zionist occupier" and a "racist state" while describing Prime Minister Binyamin Netanyahu and Foreign Minister Avigdor Lieberman as being members of the "fringes of the extreme right."
"As part of the bustle currently being felt ahead of the elections in Israel, there is a military escalation against Gaza and the occupied Golan Heights," said the statement. The Freedom and Justice Party called on Arab and Muslim governments around the world to "stop the Zionist war which is being waged over political considerations, and is far from being because of humanitarian reasons or calculations of peace, security and stability."
After its political party condemned Israel, the Muslim Brotherhood itself subsequently published a second statement with even more criticism of Israel.
"Allah knows they are all liars," said the statement. "The murder of dozens of our fellow innocent Palestinians is another link in the chain of oppression and Judaization that they are trying to impose on the ground, and that will never overlap with the will of Allah."
The Ma'ariv daily newspaper reported on Tuesday that Egypt has threatened to recall its ambassador to Israel if the Jewish State embarks on a massive operation in Gaza.
According to the report, Israel has told Egypt in the last few days that if the rocket and missile fire from the Hamas-controlled area does not stop and Egyptian mediation for a ceasefire does not succeed, Israel will be forced to react sharply, to the extent of a widespread operation in Gaza to eliminate the missile-launching cells.
The Egyptians explained that they are working in a determined way to achieve a ceasefire and need time to deal with what is happening there. In the meanwhile, they have asked Israel to restrain itself.
On Tuesday, Prime Minister Binyamin Netanyahu threatened Gaza terrorists with "a heavy price." The comments were made during a meeting between Netanyahu and mayors from southern Israeli communities in Be'er Sheva.
Tuesday was considered a "quiet day" in the south, because only two rockets and missiles were fired throughout the day. One attack was a Grad missile fired early Tuesday morning at the city of Ashdod.
The Ashdod attack ended a "ceasefire" declared on Monday night and which lasted a grand total of six hours, from midnight to 6 a.m. Hamas has declared dozens of similar ceasefires over the years and they have never been upheld.