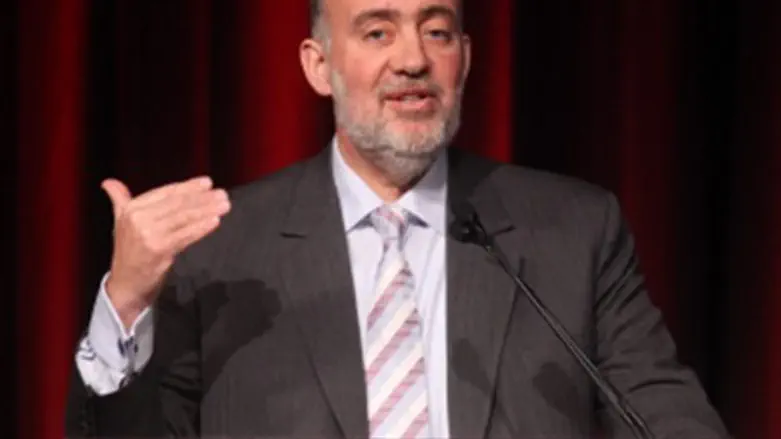 Ron Prosor
Flash 90
In the wake of the ongoing rocket fire by Gaza-based terrorists at southern Israel, Israel's ambassador to the United Nations, Ron Prosor, sent on Tuesday a letter of complaint to UN Secretary General Ban Ki-moon and to the UN Security Council.
"Hamas and other terrorist organizations in Gaza have fired more than 150 rockets in recent days," Prosor wrote. "Civilians and many Israeli soldiers have been wounded and damage has been caused to property. More than one million citizens live under the constant threat of terrorism. This situation must stop."
Ambassador Prosor noted in the letter that "Israel sees Hamas as being solely responsible for terror attacks from Gaza" and added that the Israeli leadership has given a clear message: "Israel will continue to exercise its right to self-defense and will take all necessary measures to protect its citizens. Those who carry out terrorism against Israel today, will pay a heavy price tomorrow."
He urged the international community to take responsibility and speak out against Hamas. "At this critical moment," he wrote, "your duty is clear. You must send a message to Hamas and condemn the terrorist attacks before it's too late."
Ambassador Prosor noted that Palestinian Authority Chairman Mahmoud Abbas is also responsible for condemning Hamas.
On Tuesday, Prime Minister Binyamin Netanyahu threatened Gaza terrorists with "a heavy price." The comments were made during a meeting between Netanyahu and mayors from southern Israeli communities in Be'er Sheva.
"Anyone who thinks he can disrupt the daily lives of the residents of the south and not pay a heavy price – is wrong," Netanyahu said.
"My responsibility as Prime Minister is to choose the right time to charge the highest price, and that is how it will be," he added.
Tuesday was considered a "quiet day" in the south, because only two rockets and missiles were fired throughout the day. One attack was a Grad missile fired early Tuesday morning at the city of Ashdod. The second attack was a rocket that exploded on Tuesday afternoon in an open area in the Hof Ashkelon Regional Council. In both cases there were no physical injuries or damages.
The Ashdod attack ended a "ceasefire" declared on Monday night and which lasted a grand total of six hours, from midnight to 6 a.m.
Before his visit to Be'er Sheva, Netanyahu met with his nine senior ministers and they discussed the Israeli response to the shooting from Gaza. The ministers decided that if the quiet is maintained, the IDF would not conduct air strikes in Gaza. However, if terrorists continue to shoot missiles, the Israeli response will be much more powerful than it has been thus far.