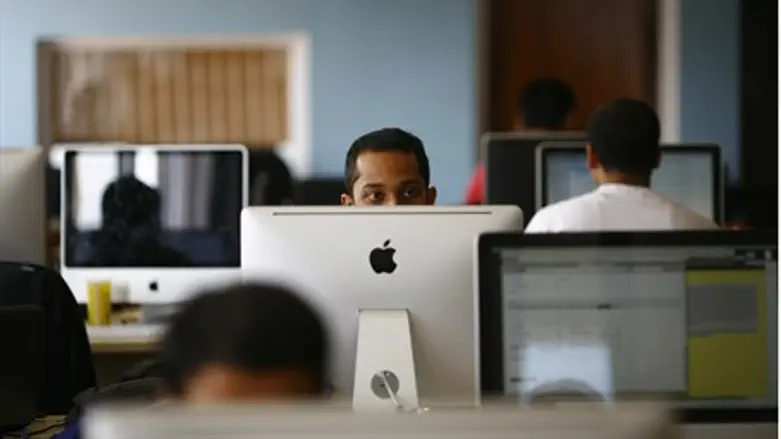 illustrative
Reuters
Following Jewish outrage over recent anti-Semitic tweets in France, Twitter announced Thursday that it has blocked access in Germany to a neo-Nazi group's account due to hate speech.
The San Francisco-based micro-blogging service has blocked access in Germany to the Twitter account belonging to an organization known as "Besseres Hannover," which means "Better Hannover" in English, The Financial Times reported.
Members of the group have been charged with inciting racial hatred and creating a criminal organization, the BBC reported.
Besseres Hannover is accused of issuing threats against immigrants and distributing racist pamphlets at schools in Lower Saxony.
It is also suspected of sending a threatening video to the state's social affairs minister Aygul Ozkan, a German-born conservative politician whose family comes from Turkey, according to the BBC.
Twitter's move to block access to the account began after the social networking received a request to do so by the German Police, according to documents uncovered by the group Chilling Effects, which monitors the "legal climate for internet activity."
The police confirmed that all of the group's social network accounts had to be shut down.
Yet, while access to the account has been blocked in Germany, it is still possible to access the account from the United States, reported Danny Sullivan of Marketingland.com.
"This is part of the wink-wink system of 'censorship' that's long been operated by Google," Sullivan said. "The search engine, similar to Google, may 'ban' pages from appearing in certain countries. But those outside those countries (or those able to pretend they are outside of it) can still access the content."
Twitter general counsel Alex Macgillivray alluded in a Tweet last night to the company's action against the neo-Nazi group.
"We announced the ability to withhold content back in Jan. We're using it now for the first time re: a group deemed illegal in Germany," the message read, although he refrained from explicitly mentioning the name of the group.
The Anti-Defamation League (ADL) recently released a statement slamming Twitter, saying it "lags far behind other established social media platforms" in establishing clear standards to block or remove racist, hate-filled tweets and re-tweets, after repeated use of the hashtag #unbonjuif in France, which literally means "a good jew", prompted a barrage of anti-Semitic messages. The social networking site has yet to respond to the Jewish complains.