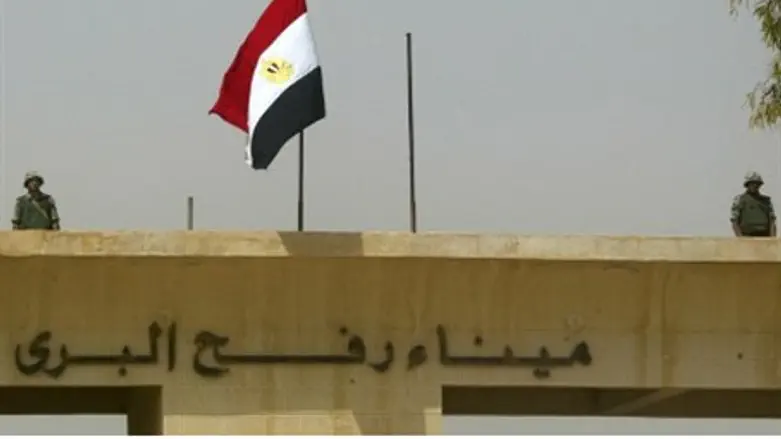 Egyptian security officers
Israel news photo: Flash 90
An Egyptian film documenting Jewish life in Egypt prior to the 1950s has stirred controversy after it was screened at a film festival in Cairo, Al-Arabiya news reported.
Amir Ramsis, director of "Jews of Egypt," was accused of promoting normalization of ties with Israel through attempting to gain the audience's sympathy for Jewish Egyptians, who are seen as the "Zionist enemy" by the majority of Egyptians.
"Those accusations are absolutely groundless," Ramsis told Al-Arabiya. "Those who think the film promotes normalization either did not watch it or analyzed it very superficially."
He maintained that the documentary is against Israel and against normalization.
"Many people do not distinguish between being Jewish and being Israeli or Zionist," he said, adding that most Egyptians "automatically consider Jews enemies."
He told Al-Arabiya that the individuals interviewed in the film were either Jews who still live in Egypt or who are currently residing in Europe.
"Egyptian Jews were apprehensive about taking part in the film because they were afraid they would be hunted down by State Security at the time of Mubarak," he said. "They were actually given clear instructions not to make any media appearances."
He noted, however, that despite the obstacles and criticism, the film was well-received.
"I did not expect that it will be that much-admired by critics, journalists, and viewers alike when it was screened as part of the European Film Panorama in Cairo," he said.
The 95-minute film records Jewish life in Egypt during the first half of the 20th century, prior to the 1956 Suez Crisis, which began as a result of Arab terrorists launching cross-border infiltrations and attacks on Israeli civilian centers and military outposts from Egypt, Jordan and Syria.
At the same time, Egypt violated the terms of the armistice agreement by blocking Israeli ships from passing through the Suez Canal and Straits of Tiran. As a result of Egyptian President Gamal Abdel Nasser nationalizing the international waterways, which also threatened British and French interests in oil supplies and western trade, the two countries joined Israel in the ensuing war against Egypt.
Thousands of Jews were expelled from Egypt as a direct consequence of the anti-Israel and anti-Semitic sentiments prevalent in the country, which were heightened by the hostilities.