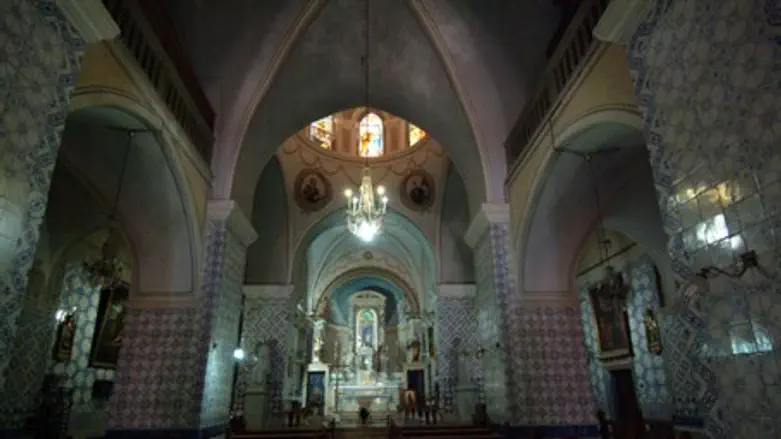 Church
Israel news photo: Flash 90
On July 6, after much speculation, the Presbyterian Church (USA) narrowly rejected a proposal to divest its portfolio from companies that supply equipment to Israel, which, it alleges, enforce Israeli control in the "occupied territories."
What was largely overlooked, however, was that the at the end of their biennial national General Assembly in Pittsburgh, Pennsylvania, the commissioners overruled a vote by the membership and voted with a 71% majority to boycott "all Israeli products coming from the occupied Palestinian Territories."
While the initial vote, by a margin of 333-331 with two abstentions, rejected the motion to divest from Caterpillar, Hewlett-Packard and Motorola Solutions, the later decision, called for the boycott of all Israeli products made over the green line.
"Be it planned or inadvertent, the news coverage about the Presbyterian Church (USA), as related to the divest-from-Israel overtures, focused on the July 6th press release rejecting all aspects of the divestment activity," asserts Fred Taub, President of Boycott Watch and author of Boycotting Peace.
"News reports of the July 7th press release were not reported for two reasons: 1) reports about the Presbyterian Church (USA) accepting divestment would appear blatantly wrong considering the news a day earlier and therefore would be dismissed by the media, and 2) the wording about apartheid was awkward, which I believe was not an accident but deliberate, meant to soften the change of policy," Taub claims.
"In addition to having a corrupt leadership, the preponderance of the overtures, the committee responses thereof and the actions of the commissioners after a narrow rejection of the decidedly one-sided anti-Israel proposals, indicates a very strong anti-Israel bias within the Presbyterian Church (USA)," he goes on to state.
"Overtures routinely quote anti-Semitic sources and even use word manipulation to make an Israeli government official appear to have said the Iranian threat against Israel is false," he adds. "They blame Israel for Muslim attacks on Christians in Palestinian Authority controlled areas and moderate proposals were quickly struck down and every mention of companies to divest from and to boycott were completely consistent with the lists put forth by the official Boycott Divestment Sanctions (BDS) campaign - which was created by the Palestinian Authority and is the official policy of the Arab League."