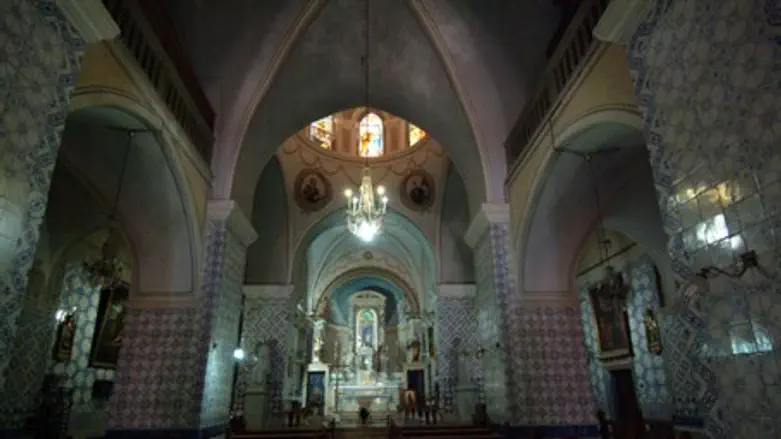 Baptist Church
Flash 90
The Presbyterian Church USA narrowly rejected a proposal to divest its portfolio from companies that supply equipment to Israel, which, it alleges, enforce Israeli control in the "occupied territories."
The vote, at the church's biennial meeting, followed weeks of lobbying and days of impassioned testimony by American Jews, Palestinian Christians and Presbyterians, reported the Pittsburgh Post-Gazette.
By a margin of 333-331 with two abstentions, the General Assembly of the Presbyterian Church, being held in Pittsburgh, rejected a motion to divest from Caterpillar, Hewlett-Packard and Motorola Solutions.
Presbyterians voted, however, to replace the divestment proposal with a separate one calling for positive investment in businesses in the "West Bank."
The vote represented a surprising reversal after a smaller committee voted by a 3-to-1 margin earlier this week to support divestment.
Supporters of divestment claimed that withdrawing church funds from "offending companies" would bring the church's actions into line with Christian values.
Opponents, on the other hand, warned that divestment would cause a rift in relations with American Jews and rouse the Boycott, Divestment and Sanctions (BDS) movement, which, largely, fails to recognize Israel's right to exist.
According to Brian Ellison, chairman of the Presbyterian Mission Responsibility Through Investment committee, Hewlett-Packard sells hardware used by Israel in its naval blockade of Gaza; Motorola Solutions supplies surveillance technology to the so-called Israeli "settlements"; and Israel uses militarized Caterpillar bulldozers to "raze Palestinian homes."
The vote brings PCUSA into line with other mainline U.S. Protestant denominations that have rejected divestment. The United Methodist Church voted in May not to divest from the three companies in question. The Evangelical Lutheran Church rejected divestment in 2007 and 2011.