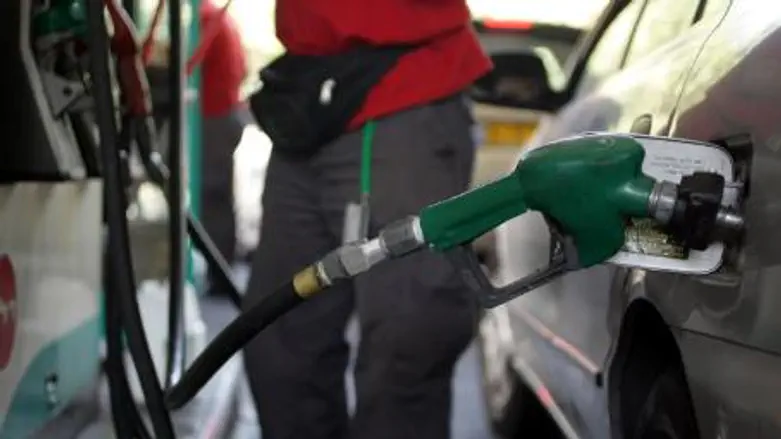 Made in Israel?
srael news photo: Flash 90
An Israel energy company announced Sunday it has discovered an off-shore energy field that may even surpass previous finds in terms of the possibilities of developing commercial grade oil.
Israel Opportunity Energy Resources LP announced that its Pelagic licenses indicate 6.7 trillion cubic feet (TCF) of gas and 1.4 billion barrels of oil. By comparison,  the previously announced Tamar and Leviathan off-shore fields contain an estimated 9 and 17 TCF of natural gas. The amount of commercial oil, if any, has not been finalized, but estimates of possible oil in the Leviathan field have been downsized to 600 million barrels.
Discoveries of oil and gas have made outdated the old joke that Moses took the wrong turn from Egypt, leading Israel to sand and leaving oil for the Arabs.
After being chased by Pharaoh to the edge of the "Sea of Reeds," which often if not correctly is called the Red Sea, Moses asked Heaven to save them, and He replied to step into the sea, which then was split by winds, allowing the Jews to cross and then burying the army of Pharaoh when it followed.
Stepping into the sea now can be seen in retrospect as a sign of the treasures buried under the sea.
"The quantity of gas discovered in the licenses, and the high probabilities, make it the third largest offshore discovery to date," according to Israel Opportunity chairman Ronny Halman, quoted by Globes.
He added, "This quantity guarantees Israel's energy future for decades, and makes it possible to export Israeli gas, and boost the state's revenues without worrying about gas reserves for domestic consumption."
The five Pelagic licenses cover half a million of acres of sea approximately west of Haifa. One of the licenses is estimated to have a 27 percent chance of success.
"We are preparing for the first well," Israel Opportunity CEO Eyal Shuker said. "For the logistics, we've rented port storage and operations space, we've begun ordering drilling equipment, including drill heads and casings, and we've secured most of the agreements with Israeli and foreign services and equipment providers for the well. The operator, AGR, has already brought a skilled team to Israel to manage the operation.
The new discoveries make it more certain of a virtual revolution in the Israeli economy, with anticipation that Israel will be energy self-sufficient in three years and soon after will be able to export gas and possibly even oil.
The Tamar and Leviathan energy fields are being developed, and the infrastructure work has added thousands of skilled jobs to the labor market. Exporting energy probably will strengthen the shekel and help make it one of the strongest currencies in the world.