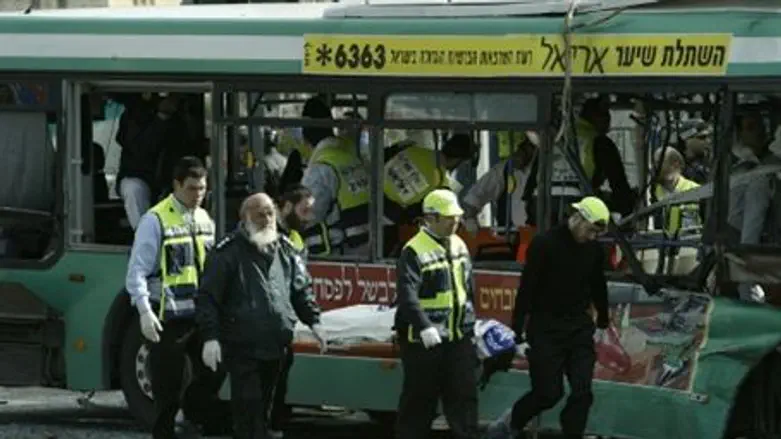 Bus bombed in 2004 suicide attack
Israel news photo: Flash 90
Israel agrees to another "goodwill gesture" to Palestinian Authority Chairman Mahmoud Abbas and will return 91 bodies of terrorists to the PA, which usually uses them to glorify suicide bombings and other attacks on Israelis.
The PA has frequently named public places after terrorists and has cited them as examples for children to follow and become martyrs. Abbas will head a welcoming ceremony in Ramallah on Thursday, when the bodies are to be returned. 
Prime Minister Binyamin Netanyahu also has agreed to return the bodies of another 39 terrorists at a later date.
PA Minister for Civil Affairs Hussein a-Sheikh published on Tuesday evening a list of the names of the dead terrorists to be returned, murderers who killed hundreds of Israelis.
The bodies include the suicide bomber who murdered 18 people in a suicide bombing of Egged Bus Number 2 in Jerusalem, 16 others in a similar attack in Be'er Sheva, and six people at Jerusalem's Café Hillel.
Other terrorists' bodies that will be returned are those of the Hevron bomber who attacked a hitchhiking station in Ashkelon, killing one woman soldier; the suicide bomber who blew himself up at the entrance to Tel Aviv's Stage nightclub in 2005, where four Israelis were killed; and the female terrorist who killed three people and herself in a suicide bombing in Afula in 2003.
Israel also will return the bodies of six terrorists killed when elite IDF soldiers carried out a rescue mission after the terrorist attack on the Savoy Hotel in Tel Aviv in 1975, where eight Israeli hostages were murdered.