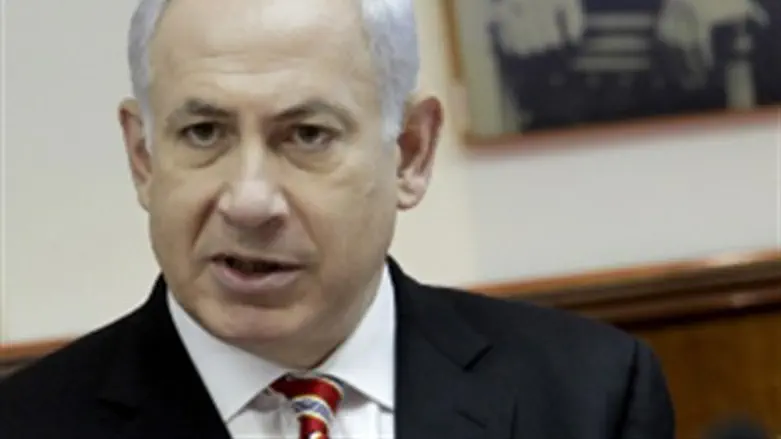 Benyamin Netanyahu
Flash 90
As the talks about a possible upcoming election in Israel continue, Prime Minister Binyamin Netanyahu said for the first time on Saturday night that he will not hesitate to go to elections if the coalition partners try to blackmail him.
According to a report on Channel 2 News, Netanyahu said that Israel's economy and security have functioned well in recent years thanks to his government's stability, but warned that if coalition partners make demands on issues such as the Tal Law and the budget, he will not surrender to blackmail.
Netanyahu may have been referring to comments made by Foreign Minister Avigdor Lieberman, who said Saturday that he will present a universal national service law to the Knesset in ten day's time. The law is to replace the Tal Law that regulated the exemption from service for hareidi yeshiva students.
Lieberman threatened that his party would leave the coalition over the matter of the Tal Law. "We are a responsible party," he said. "We did everything to preserve the coalition. The best date for elections is the original date, but we are not hostages."
Meanwhile, it was announced Saturday night that Netanyahu will meet with representatives of the "sucker tent", which was erected by IDF reservists in Tel Aviv to protest what they see as an unjust distribution of national service requirements in Israeli society, on Sunday morning. The meeting will take place ahead of the weekly cabinet meeting.
"Netanyahu's office said he will discuss the Tal Law and his thoughts on it with us, but did not elaborate beyond that," Boaz Noy, one of the members of the encampment, told Channel 2.

The High Court struck down the Tal Law in February, in one of former Supreme Court President Dorit Beinisch's last rulings. Members of the Kadima party, too, have adopted the issue of the Tal Law as an election plank. 
On Friday it was reported that Labor chairwoman Shelly Yechimovich plans, in a few weeks, to submit a bill calling to dissolve the current government.
Yechimovich, who recently indicated she intends to run for the position of Prime Minister, said that "after three years of Netanyahu's government, Israel has reached unprecedented gaps between poverty and wealth."
Yechimovich added that the current government has brought about "galloping erosion in the situation of the middle class" and "an international record for employment of contract workers."