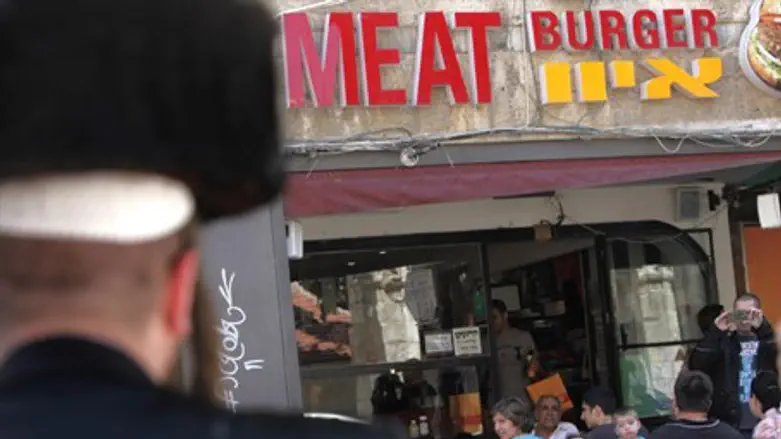 non-kosher restaurant
israel news photo: Flash 90
The Conference of European Rabbis (CER) called on French President Nicolas Sarkozy to uphold the Jewish right of 'shechita,' Jewish ritual slaughter, in Europe and to oppose a regulation that would introduce a system of classification that, Rabbis say, "would lead to stigmatization," the European Jewish Press reported.  
French Prime Minister Francois Fillon sparked a controversy this month when he said that Jewish and Muslim "ancestral traditions" of ritual slaughter were "outdated and unjustified."
He later explained his comment to Jewish leaders, stating that he had no intention of questioning the Jewish biblical commandment.  
CER President Chief Rabbi Pinchas Goldschmidt sent a letter to Sarkozy saying that European Jewish rabbis remain concerned that the Jewish right of ritual slaughter in Europe may be in jeopardy.
"The speech you gave on 3rd March on this subject has sown confusion within our communities. Your clarifications regarding the voluntary nature of such labeling were a step towards appeasement," Rabbi Goldschmidt wrote in his letter to Sarkozy.
In Bordeaux on that date, Sarkozy said that people have a right to know the details of how their meat was slaughtered, implying that he is for labeling meat as coming from animals who were or were not stunned before slaughter. Jewish law does not allow for stunning, but its method of slaughter is so fast that the animal feels pain for less time than it does when stunned before hand..
"France has always been a fierce defender of the Jewish community's fundamental rights in Europe and in particular of ritual slaughter," he continued.
"France has not only fought against those who wished to abolish it but has also expressed its opposition to the stigmatizing measure of labeling meat issued from animals that have been slaughtered without prior stunning," he continued. "We know your personal commitment to this issue, and on behalf of Europe's Jewish communities, we are very grateful." 
Labelling meat might cause lower sales of ritually slaughtered meat and result in a steep rise in the price of kosher meat. Up to now, since not all parts of a ritually slaughtered animal are kosher. the non-kosher parts are sold to meat stores, which might not purchase them if the labeling were required.