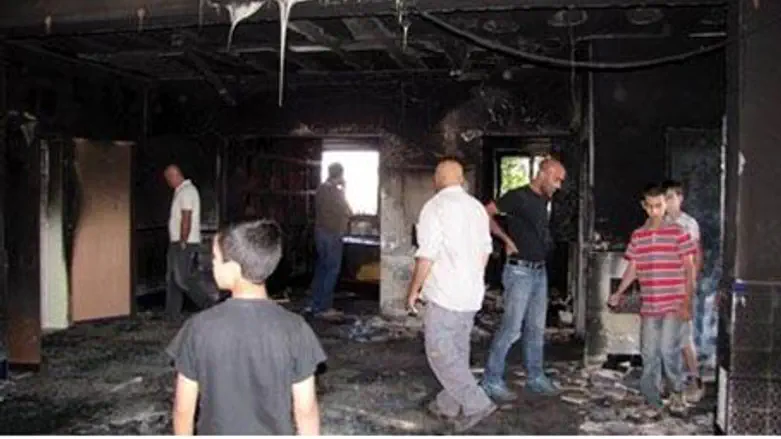 Aftermath of mosque fire
Israel news photo: Panet.co.il
More than three months after a mosque was set on fire in the northern Bedouin-Arab village of Tuba Zangariyya, a resident of the village has been victimized for voicing doubt that the attack was carried out by Jews.
The incident occurred Saturday night, hours after Bassem Swaid, a disabled IDF veteran who lives in the village, told Channel 2 news that he is certain the fire was not set by an outsider.
Assailants fired a hail of bullets at his home. No one was hurt in the attack.
The mosque, Swaid had explained to the television reporter, is located deep inside the village, and an outsider who wanted to burn a mosque would have targeted one of the more accessible ones.
He said that people from inside Tuba must have set fire to the mosque, and described an atmosphere of fear and internecine fighting within the community.
The current Head of the Tuba Zangariya local authority, Brig.-Gen. (res.) Tzvika Fogel, told Arutz Sheva that "it was predictable" that Swaid would be attacked for saying what he said. The amount of illegal weapons in Tuba Zangariya "is enough to equip an infantry battalion," he said.
While most of the village's residents want to be a peaceful part of Israeli society, 15 to 20 percent of them want to instill terror in the streets. "One day this will be turned against us," he warned.
Israel's leading rabbis, politicians and journalists' knee-jerk reaction to the arson at Tuba in October was to apologize profusely to the Arab residents right away. Almost all were convinced that Jews had carried out the attack, as part of the "Price Tag" operations, although Chief Rabbi Shlomo Amar was more circumspect and noted that the arson could have been planned as a libel against Jews. Police have no leads regarding the arson and the Jews who were arrested shortly after the attack were soon freed.