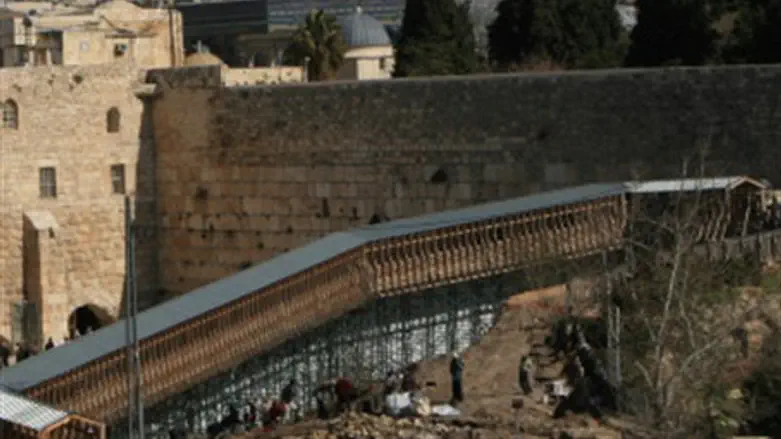 Mughbari (Rambam) Bridge
Israel news photo: Flash 90
MK Danny Danon (Likud) said on Monday that he plans to work towards ensuring equal access to the Temple Mount for Jews and Christians, just as Muslims have access to the area.
Danon made the comments after Jews who arrived at the Temple Mount on Sunday were blocked by police, who told them that they cannot enter because the bridge to the Rambam Gate (also known as the Mughrabi Gate) has been declared unsafe and must undergo renovation. At the same time, Jews are not allowed to use another entrance to enter the compound.
"It is unacceptable that there will be freedom of religion for Muslims and not for Christians and Jews," Danon told Arutz Sheva. "What's happening today is that the Jordanians and the Waqf are threatening Israel not to build a new bridge, while at the same time, because of the condition of the bridge Jews cannot go and pray on the Temple Mount."
"I asked the Prime Minister to use another gate in order to allow Jews and Christians to go on the Temple Mount and pray," he added. "We cannot say that there is freedom of religion only for a small minority. It should be for all religions in Jerusalem."
Danon expressed hope that the situation will be resolved within a few days.