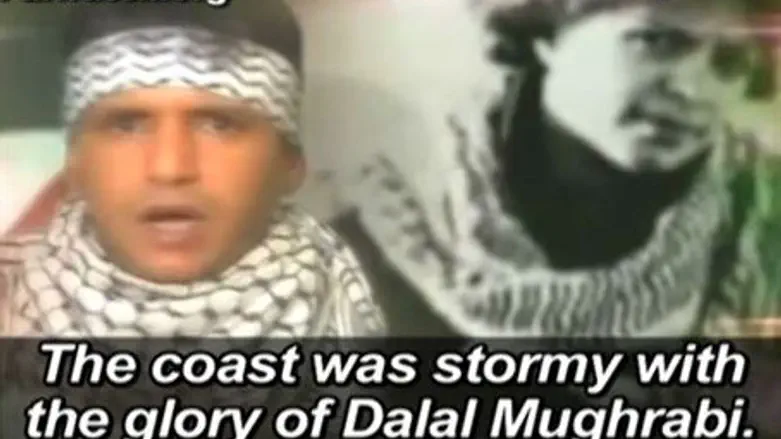 Dalal Mugrahbi on PA TV
Israel news photo: PMW
The Palestinian Authority's ruling Fatah faction has named two educational programs for Dalal Mughrabi, who led the most deadly terror attack on civilians in Israeli history. These are not the first such honors bestowed upon this bloodthirsty murderer.
One of three groups in the Fatah youth organization's "Lion Cubs and Flowers" summer camp is named for Mughrabi, whose terrorist cell murdered 37 people on the Coastal Road in 1978, including 12 children.
The other two Fatah camper groups were named for Abu Jihad, the terrorist leader who masterminded Mughrabi's attack, and Yasser Arafat, the late terrorist chairman of the Palestine Liberation Organization (PLO).
The dedications were proudly announced in an article that appeared July 4 in the official PA daily newspaper Al-Hayat Al-Jadida, and posted and translated by the Palestinian Media Watch (PMW) watchdog organization.
Last month the newspaper reported that the graduating class of the Al-Tireh Girls' College in Ramallah was dedicated to Mughrabi's memory. "Under the auspices of MPs Walid Asaf and Dr. Najat Abu Bakr, the Shabiba student movement held a graduation ceremony for the 'Dalal Mughrabi' class," the newspaper reported on June 17.
PA Chairman and Fatah leader Mahmoud Abbas has also personally been involved in the effort to transform Mughrabi into a role model for PA Arabs. Abbas funded a computer center in 2009 that was named for the terrorist, and in 2010 he sponsored an event to mark what would have been the murderer's 50th birthday.
In March 2010, even as the PA leader claimed he had cancelled a ceremony to name a public square after Mughrabi, scheduled to take place during a visit to Israel by U.S. Vice President Joe Biden, the celebration was held "unofficially" -- with members of the PA leadership standing in for Abbas instead.