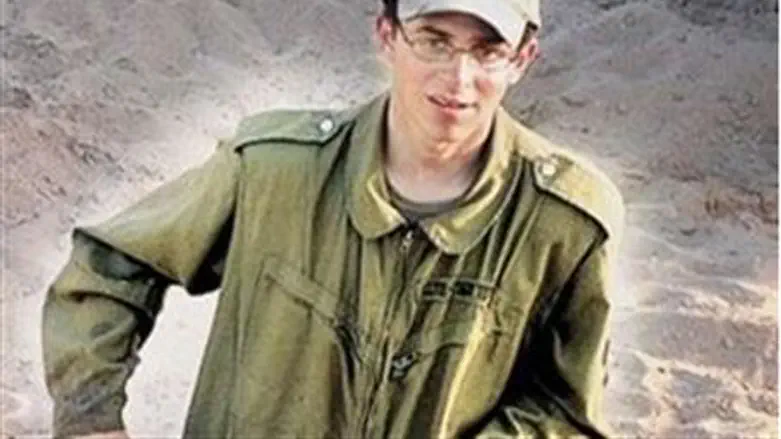 Gilad Schalit
Israel news photo: Flash 90
The Hamas terrorist rulers of Gaza have accused Israel of "lying" and say there is "nothing new" in a deal to free kidnapped IDF Cpl. Gilad Shalit.
Gaza-based Hamas spokesman Sami Abu Zuhri also said Prime Minister Binyamin Netanyahu is "fully responsible" for the stalemate in negotiations for Shalit's freedom.
Yesterday (Saturday, June 25) was the fifth anniversary of the abduction of the young soldier while he was serving near the Kerem Shalom crossing with Gaza. He was kidnapped by terrorists from Hamas, the Popular Resistance Committees and the Al Qaeda-linked Army of Islam group, all of whom are based in Gaza. His condition and whereabouts remain unknown, and the International Committee of the Red Cross (ICRC) -- which has been denied visits in violation of international law -- has now begun to demand that Hamas prove the soldier is still alive.
"We know nothing of what Netanyahu is talking about," Abu Zuhri said in a statement. "There is nothing new in the prisoner exchange deal, and Netanyahu is practicing lies."
Netanyahu announced earlier today (Sunday, June 26) that Israel had accepted a deal proposed by the German mediator for Shalit's release, even though it was "harsh" and "not simple for the State of Israel."
The prime minister did not reveal the details of the proposal.
Senior Hamas official Mahmoud Az-Zahar told journalists following Netanyahu's announcement that negotiations would not be resumed "until the captors' demands are met." However, he too did not specifically detail what those were.
In the past, the terrorist group has demanded the release of up to 1,450 Palestinian Authority Arab prisoners in exchange for Shalit's freedom, including 450 terrorists with "blood on their hands" – meaning those who have been directly involved in the murder of Israelis.