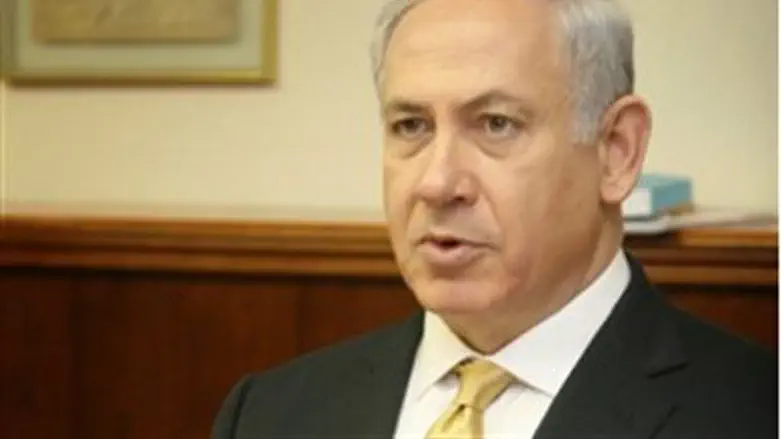 PM Binyamin Netanyahu
Israel news photo: Flash 90
Prime Minister Binyamin Netanyahu thanked France for doing its best to help Israel and the Palestinian Authority reach a final status agreement but said no thanks to talks with a PA government that includes a non-repentant Hamas.
French Foreign Minister Alain Juppe, who arrived in Jerusalem on Wednesday, has invited the prime minister and PA officials to attend a Paris peace conference in late June.
PA Chairman and Fatah leader Mahmoud Abbas has accepted the French proposal to attend talks "about President [Barack] Obama's vision... in which he spoke about a [Palestinian] state with the '67 borders with borders with Israel, Egypt and Jordan."
Netanyahu praised the French foreign minister for his efforts in the service of peace but was not quite so quick to leap into the net. It is impossible to negotiate, much less reach a peace agreement, he reminded, with an entity devoted to the destruction of its "peace partner."
The proposal comes as a possible face-saving measure for the Palestinian Authority as chances increase that its bid to ask the United Nations to accept its creation as an independent country in September may fizzle.

Speaking at the opening of the government's weekly Sunday cabinet meeting, Netanyahu told the ministers, "We will study the proposal and discuss it with our American friends as well," Netanyahu said.
However, he said, "We would also like to emphasize and reiterate: Negotiations will not be conducted with a Palestinian [unity] government, half of which is Hamas, a terrorist organization that seeks to destroy Israel. I made it clear to Foreign Minister Juppe that Hamas must adopt the Quartet principles," Netanyahu said.
"If the claim that there is a new spirit in Hamas is true, then it can find expression in the release of [IDF soldier] Gilad Shalit. If Abu Mazen (PA Chairman and Fatah leader Mahmoud Abbas) has such good ties with Hamas, he can pressure it to release Gilad. In any case, Hamas is not exempt from meeting the Quartet's conditions," the Prime Minister added.
Shalit was abducted from an IDF outpost near the Kerem Shalom crossing with Gaza on June 25, 2006 by operatives from the Gaza-based Hamas, Popular Resistance Committees (PRC) and Al Qaeda-linked Army of Islam terrorist organizations. His condition and whereabouts are still unknown.