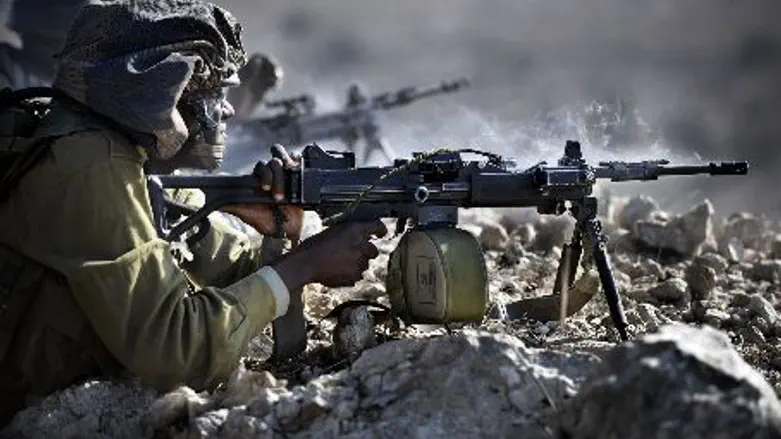 IDF checkpoint
Israel News photo: Flash 90)
The Commander Officer of the IDF Central Command, Maj.-Gen. Avi Mizrahi, has decided to end the military career of a soldier involved in the accidental death of a suspicious Arab during the course of a wave of arrests of terrorists.
The incident occurred in Hevron this past January 7. The Palestinian Authority had just announced that it had released from prison, after several months, five Hamas terrorists, including one named Wael Bitar who was involved in a suicide bombing in which a woman was murdered in Dimona.
Just hours later, a special squad from the IDF "Duvdevan" counter-terrorism elite unit was called in to re-arrest the freed terrorists in Hevron. During the course of the special operation, which ended successfully with the arrest of all five terrorists, two soldiers shot and killed an Arab civilian, fearing that he was an accomplice of Bitar and endangering their lives.
Maj.-Gen.Mizrahi, after investigating the matter, concluded that the first soldier who fired did so justifiably; the firing "followed suspicious movements that caused the soldier to feel that his life was threatened, especially having known about Bitar's actions of Wael Bitar." However, Mizrahi concluded that when a second soldier began firing as well, he acted "unprofessionally." Though the second soldier, too, felt threatened, Mizrahi concluded, his term in the army must not be extended.
Wael Bitar collaborated with Shehab Natshe, the executor of the double suicide bombing in Dimona in February 2008. This attack resulted in the death of an Israeli woman and the wounding of ten other Israeli civilians. Subsequently, Bitar led the planning of additional suicide bombings that were thwarted by the IDF.
Security sources report that "Duvdevan" is a professional, elite unit specializing in close combat, camouflage and assimilation into hostile territory in order to capture terror operatives in complex areas and thwart terror attacks before they are executed. During 2010, it was announced, the unit executed 64 such operations, this with no casualties or injury to uninvolved civilians.