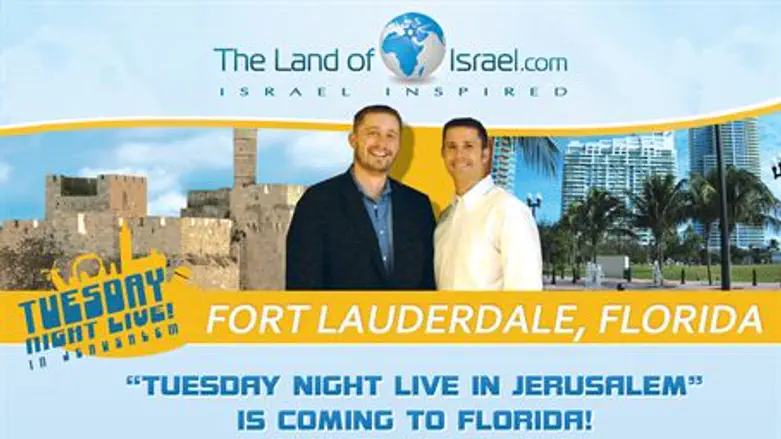 Tuesday Night Live in Jerusalem Florida show
www.thelandofisrael.com
The televised Zionist variety show, "Tuesday Night Live in Jerusalem" is riding the tidal wave of success they encountered from the debut of their new series "Tuesday Night Live Across America" in Houston, Texas this past summer. In their quest to hit every state in the United States, they have their sights set on Ft. Lauderdale, Florida this upcoming January 18th.
Tuesday Night Live was created as a  joint project of Israel National News TV and theLandofIsrael.com.
The special Florida show will feature comedian Jackie Mason, former PLO terrorist Walid Shoebat, Congressman Allen West and others.
Hosted by reserve IDF soldiers Ari Abramowitz and Jeremy Gimpel, the program is filmed in front of a live studio audience and features guest speakers, interviews and a live band on stage. The first three seasons were filmed in Jerusalem with Israel National News TV.
Co-host Jeremy Gimpel, just returned from a whirlwind tour of the area raising awareness not only about the upcoming show itself, but about the precarious situation Israel finds itself in today and the importance of the Diaspora community standing strong with the Jewish State.

"To be honest, I wasn't expecting such a enthusiastic reception," said Gimpel, "but whether it was synagogues, schools, JCC's, or conferences, I felt like I connected with every Jew in Florida. The energy and enthusiasm with which the Florida community received our message is really reflective of their love for Israel. The community's mobilization is healthy, strong, and in my experience, quite unique."



Since its inception in 2007 when the show featured on Israel National News TV, TNL has made its way into over 30 million homes in America via cable TV on Time Warner, Comcast, and Direct TV.  Many attribute this success to the unique mix of humor and positivity with which the show depicts Israel and the Jewish People. 
"So many people associate Israel with emergency and tragedy – who would want to move to that?" asks co-host Ari Abramowitz. "This show is a message from both the people of Israel to the world, as well as from the world to the people of Israel."

The upcoming Florida show will host Walid Shoebat, a pro-Israel speaker who used to be an PLO terrorist. Shoebat is the author of Why I Left Jihad and other books.
Also on stage will be feature the iconic Jewish comedian Jackie Mason, who began his career in the 1960s and currently offers comic political commentary on his new show The Ultimate Jew.
Newly elected Florida congressman Allen West and Israeli consul general Ofer Bavly will speak as well.
The hosts of Tuesday Night Live explained that the reason they chose Ft. Lauderdale for their next episode was due to the well known passion and commitment the Florida community has for the Jewish State. 
Abramowitz commented, "Pro-Israel leaders from communities and congregations throughout southern Florida have been rallying their groups to reserve blocks of tickets together, as if to say "we stand united in our unity with Israel."
Staying true to their purpose of leaving each community with a more cohesive and connected pro-Israel community, the show will be preceded by a VIP reception consisting of the organizations, political, and religious pro-Israel leaders from the community.  

The event will be held at the Parker Playhouse and will be featured here, on Israel National News TV. To reserve tickets visit http://www.parkerplayhouse.com. For more information email [email protected]. For Ari Abramowitz and Jeremy Gimpel's podcast on Israel National Radio click here: http://www.israelnationalnews.com/Radio/Author.aspx/1193