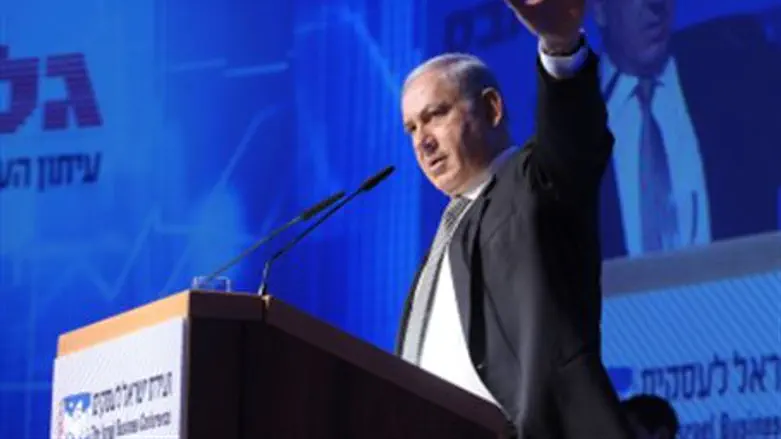 Netanyahu at Globes Conferece Dec. 13, 2010
Flash 90
Prime Minister Binyamin Netanyahu addressed the Globes Business Conference Monday and said that he wants Israel to be among the world's top 15 countries in per capita income by the year 2025.
"Israel's economy over the past decade has been growing rapidly," he said. "Our goal should be to be included in the leading 15 countries in terms of per capita income within 15 years. It is an achievable goal. It won't be easy, but it is possible if we experience growth of slightly over 1.5% in the GDP per year."
"Growth," said Netanyahu, "is necessary for our national and social needs in a time of crisis. There is no other way to find the funding for these things without growth. That is why the question we should be asking ourselves is: what are the most basic fundamental rules because of which we are where we are today, moving from a developing economy to a developed one? Another question we should discuss is how we can continue on that same path, because competition – just like in business – never stops. A national economy that is part of a global economy must always compete, and I claim that in order for us to continue competing, growing, and improving, and reach the goal I stated, we must follow five basic rules.  If we follow these rules, they will protect us.
The first rule, according to Netanyahu: don't spend more than you make, don't waste more than you earn. 
The second rule is that "there is money to be made in growing economies: investors, employees, managers – everyone takes risks, makes an effort and works to make a profit.  That is why one must ensure profit.  Accordingly, one must ensure competitive tax rates.  And therefore the aspiration is – as much as possible and whenever possible – to reduce tax rates."
The third rule is "not just to preserve the fiscal framework and to make it worthwhile to invest and work, but [...] also allow for innovation. Added value is the result of innovation, and innovation is the result not only of the talent of our population, but first and foremost of nurturing that talent through our renewed education system.  That means at the high school and university levels."

The fourth rule is to ensure that there is appropriate infrastructure. Appropriate infrastructure, said the PM,  includes water, ground transportation networks – highways to the Galilee, highways in the Negev, a rail line to Eilat that will connect the Red Sea with the Mediterranean – as well as a broadband information highway, and a fence along the southern border. 
The fifth rule is to encourage the possibility of doing business with the least amount of State intervention.
Netanyahu summed up: "We must act consistently, according to the rules we followed to date.  We must reduce or restrain our government expenditure. We must reduce taxes. We must invest in education. We must build up our infrastructures. And we must encourage initiative and cut bureaucracy."
"I look at Warren Buffet: he deals in high technology, he buys hi-tech companies.  He bought one in Israel.  However, in the end, he acts according to simple, clear and evident economic rules.  More than anything else, what gives us this result is consistency is following these rules.  That is why we must act in the same manner.  We must act according to these rules because the world is impressed by them and Israelis enjoy them."