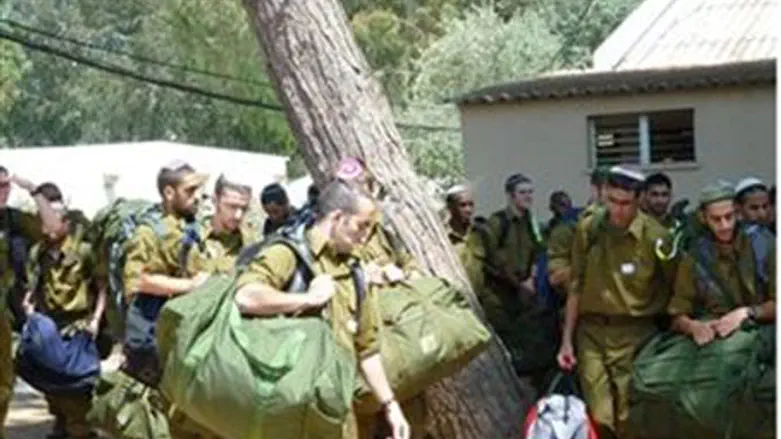 Hesder soldiers
IDF
450 students in the IDF's Hesder program, which combines active service and Torah study, enlisted this past week in their military service units. The majority – 260 – joined ground forces combat units.
Some remained in units made up exclusively of soldiers in the Hesder program, while others joined mixed religious-secular units.
The first hesder soldiers to enlist in active service were those joining the Navy. The Navy welcomed back hesder soldiers, who were not enlisted to serve in the Navy during the previous round of enlistment in March.
On Monday hesder recruits joined the Givati Brigade, on Tuesday those chosen to serve in Kfir joined their brigade, on Wednesday recruits joined Nahal, and on Thursday new paratroopers joined their units. Next week enlistment will continue, with soldiers joining artillery units, intelligence, the IDF rabbinate, or entering service as medics or instructors.
Former MK Rabbi Chaim Druckman, who heads the Organization of Hesder Yeshivas as well as specifically the Ohr Etzion Yeshiva, accompanied new hesder soldiers to the recruitment office. "Always act the way yeshiva students should during your military service, both in combat and in your day to day interactions," he advised the young men.
"Go in peace and return in peace," the venerable rabbi, who has for decades served as spiritual mentor to thousands of hesder soldiersl, blessed the young soldiers..