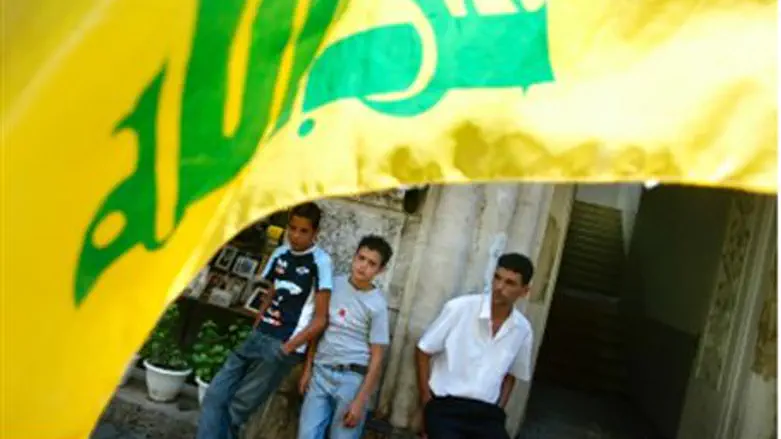 Hizbullah flag on Lebanon street.
Israel news photo: Flash 90
A car bomb that exploded July 15 in Ciudad Juarez, Mexico, may indicate that Mexican drug cartels are being assisted by Hizbullah terrorists. This possibility means that the U.S. may be faced with a Muslim terror threat south of its border that is not completely unlike the terror presence Israel deals with on its southern and northern borders.
The car bomb exploded near a federal police headquarters, killing four, after police had been lured to the scene by a ruse. The tragedy was captured on video (see above). It is the first recorded incident in which drug cartels used the car bomb tactic, and experts say it could be a sign of Hizbullah's involvement. Iranian proxy Hizbullah has used car bombs hundreds of times against its rivals, including Israeli forces.
Erick Stakelbeck of the Investigative Project, a counterterrorism research group, told Investor's Business Daily that Hizbullah has established a base in what is known as the Tri-Border area, where Argentina, Brazil and Paraguay meet. He reported that "the area is home to roughly 20,000 Middle Eastern immigrants — mostly from Lebanon and Syria — and has long been a hotbed for terrorist fundraising, arms and drug trafficking, counterfeiting and money laundering."
Rep. Sue Myrick, R-N.C., recently sent a letter to the Department of Homeland Security asking that a task force investigate Hizbullah's connection to the drug cartels. Hizbullah, she wrote, "operates almost like a Mafia family in the region, often demanding protection money and 'taxes' from local inhabitants."
Earlier this month, Hizbullah official Jamel Nasr was reportedly arrested in Tijuana. Ray Walser of the Heritage Foundation wrote in a Fox News website that "Mexican authorities have released few details about his arrest, but they appear to have uncovered a network traceable back to the terrorist group's headquarters in the Middle East."
"Last month," Walser added, "Paraguayan police arrested Moussa Ali Hamdan, a naturalized U.S. citizen. He had been sought by the U.S. since last November, when he was indicted for involvement in bogus passports, counterfeiting, and selling fake merchandise to finance Hizbullah operations."
South and Central America attract terrorists for various reasons, the analyst explained. "Profits from the region's lucrative drug trade help fuel many international terrorists," he wrote. In addition, the Tri-Border region "boasts a high density of inhabitants of Arab descent. That, coupled with a robust smuggling trade, makes the Tri-Border a lawless breeding ground ideal for fueling international terrorism."
In the face of escalating bloodshed in the 42-month-old war between Mexico's security forces and drug cartels, the Obama administration is sending the National Guard to help patrol the southern border. The body count in the war on the cartels is approaching 25,000.
"(Homeland Security) Secretary (Janet) Napolitano announced the active deployment of 1,200 National Guard troops on the southwest border," said Alan Bersin of US Customs and Border Protection. "And that will begin on August 1."