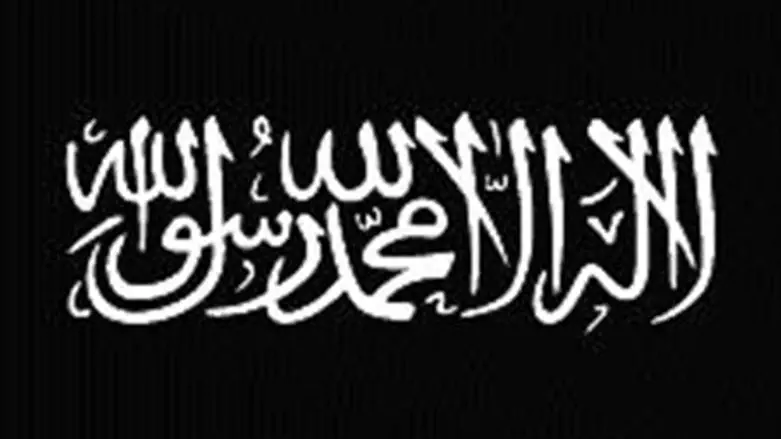 Hizb Ut-Tahrir flag
Israel news photo: Hizb Ut-Tahrir
Members of the international pan-Islamist Hizb Ut-Tahrir group clashed with Hamas forces in Gaza on Tuesday night. Several dozen men defied Hamas's decision not to permit a Hizb Ut-Tahrir rally and gathered in Gaza City, where they threw rocks at Hamas troops. Many were arrested.
The incident marked the first time that Hamas and Hizb Ut-Tahrir are known to have fought. Hamas has faced trouble with Salafi Islamist groups in the past.

The Palestinian Authority angered Hizb Ut-Tahrir after arresting and detaining 17 of its members near Hevron earlier this week.
According to a statement sent by the group to the Bethlehem-based Ma'an news agency, the detentions came after a public lecture held at a mosque in Idhna, a town west of Hevron. The lecture was held to commemorate the 89th anniversary of the collapse of the Islamic Caliphate.
Hizb Ut-Tahrir said in a statement about the event that it "would not stop its Shari'a duties" despite pursuit of its members by PA security forces. A PA security source quoted by the news agency who spoke on condition of anonymity said the "rioters" were detained because they defied the orders of security personnel.
The group is committed to the establishment of a global Caliphate that will administer the world through the Islamic laws of Shari'a. It has three goals: to establish branches in host countries, sway public opinion to facilitate change of government in those nations and ultimately to install an Islamist government that will help promote the spread of its form of Muslim thought and belief throughout the world.
Founded in 1953 in Jerusalem, the group has already partially met its goals, having already spread to more than 40 countries and having acquired an estimated one million-plus membership worldwide, despite its having been outlawed by many governments, including several in the Arab and Asian worlds.
Hizb Ut-Tahrir is strongly opposed to the Jewish State and its charter calls for "the dismantling" of the "illegal entity" of Israel.
Two months ago, 13 Hizb Ut-Tahrir Bangladesh leaders and activists were arrested for recruitment activities at two universities and in Badda. The group, which is banned in Bangladesh, was distributing leaflets containing statements against the government, India and the United States, according to Badda police.