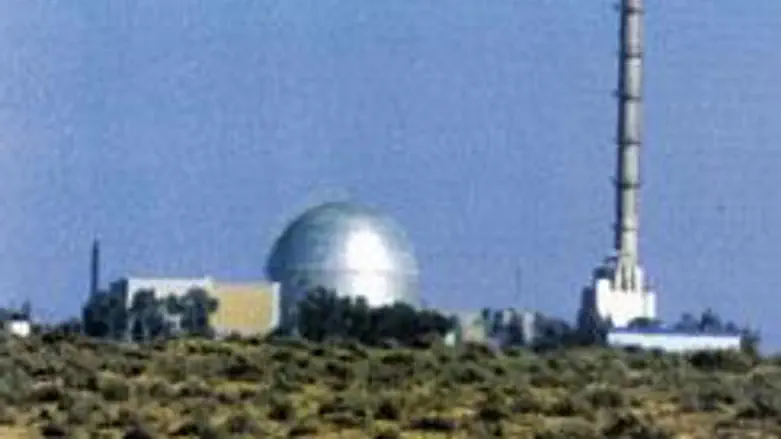 Dimona reactor
Israel news photo: file
The United States has begun denying visas to Israel's nuclear scientists, according to the Hebrew-language daily Maariv. Workers at the reactor in Dimona told the paper that they had been treated poorly by US representatives, and had been told they could not travel to the States.
For the past 20 years it has been common for scientists working at the Dimona reactor to travel to universities in the U.S. to enhance their knowledge in the fields of physics, chemistry, and nuclear engineering.
The only reason the Dimona scientists' visa requests were refused was their work at the reactor, sources in the military establishment said. None of the researchers has had any trouble with the law, in Israel or America.
A former Dimona worker told Maariv that the problems between Israel and America went beyond denied visas. The US has also created a "de-facto embargo" on equipment needed in the Dimona reactor, he said.
The refusal to sell Israel certain parts began after current US President Barack Obama took office, he said. When it comes to certain other pieces of equipment, he added, the US now permits sales only if Israeli officials explain exactly what the part will be used for.
"And yet, when it comes to those who manufacture nuclear terrorism, we hear a lenient approach, even though the entire world can see that Iran's leaders are making a joke out of the US," he said.
Professor Zev Alfasi of the nuclear engineering program at Ben-Gurion University confirmed the statements made by the anonymous former Dimona worker. "Some people are not getting visas to the United States for the sole reason that they work at the Dimona reactor," he said. In addition, he said, "The US does not sell a single piece of nuclear-related equipment to the Dimona reactor... They sell to the universities, but they refuse to sell equipment to the reactor."
On Friday morning, spokesmen for Prime Minister Binyamin Netanyahu announced that he would not attend a Nuclear Security summit in the US as previously planned, but would send a senior minister in his place. Netanyahu apparently decided not to attend the summit due to concerns that he would face pressure over Israel's nuclear program. The visa refusals may have been another factor leading to his concerns.
The State Department issued a denial of the report on Saturday.