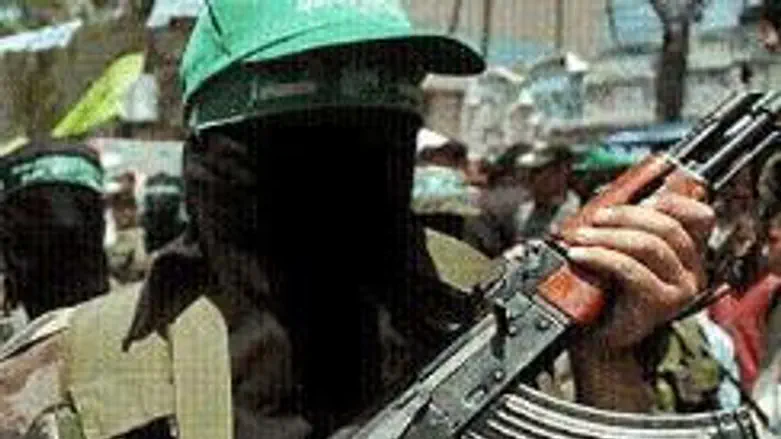 Palestinian terrorist ready to shoot


Arab terrorists opened fire at Israeli hitch-hikers outside the Shomron city of Ariel shortly before 11:30 AM, wounding a 20-year-old soldier in his stomach.  He was evacuated to Beilinson Hospital in Petach Tikvah, and is listed in moderate-to-serious but stable condition. 
The attack occurred shortly before noon when a long round of shots rang out from a west-bound car that passed by the hitch-hiking post along the moderately busy Tapuach-Ariel-Raanana highway.  The terrorists' vehicle then made a quick U-turn, and sped back towards the central Shomron.  The terrorists also shot at Israeli cars on the highway, wounding a second man lightly in his leg. The car had Palestinian Authority license plates.
A little-known Fatah terrorist cell has claimed responsibility for the attack.  Fatah is headed by PA chairman Mahmoud Abbas.
Police and military forces erected checkpoints in the area, and are in pursuit of the terrorists.  A car was reported to be ablaze in one of the Arab villages in the area, and is believed to be the vehicle used by the would-be murderers.  The Tapuach-Ariel section of the highway is closed to traffic.
Yesha Council: Result of Government's Policies
The Yesha (Judea and Samaria) Council of Jewish Communities announced that the attack was "the inevitable result of the government's goodwill gestures to Abu Mazen (Abbas).  We have warned that the release of terrorists from prison, and the removal of others from the list of wanted terrorists, would lead to attacks.  Instead of trying to strengthen Abu Mazen, an effort that is doomed to fail, the government should be trying to strengthen the security of Israel's citizens."
Previous Attacks
The attack was the first of its kind in the Shomron in over a month.  On September 14, two women were lightly wounded when they were ambushed by Fatah terrorists as they were driving between Karnei Shomron and Kedumim, just a few kilometers from the site of today's attack.
The Ariel junction, located 23 miles east of Tel Aviv, has been the site of several fatal shooting attacks in the past.  In August 2003, an 18-year-old and a 22-year-old were murdered there; ten months earlier, three soldiers were killed and 21 were wounded in a suicide attack.  In August 2001, Zohar Shurgi, 40, a father of three, was killed in shooting attack between Ariel and Tapuach.