The Gates of the Old City of Jerusalem: Antique Photos
There are 8 picturesque gates to the Old City, which can be seen on a walking tour today. These photos are over 100 years old.
By Lenny Ben-David
First Publish: 6/13/2014, 1:52 PM / Last Update: 6/6/2014, 1:52 PM

Sha'arei Hulda, the Double & Triple Gates, now sealed, open onto the Temple Mount on the south sie, and are within the Old City. The Golden Gate is also sealed. It is part of the wall around the Old City, and it, too, opens onto the Temple Mount, but from the east, below the Mount of Olives..
עומדות, היו רגלינו בשערייך, ירושלים
ירושלים הבנויה כעיר שחוברה-לה יחדיו
Our feet did stand firm within your gates, O Jerusalem
Jerusalem, built up, is like a city that is united
- Psalms 122
Israel celebrated "Jerusalem Day" last week, commemorating the Six Day War victory and the reuniting of the city of Jerusalem during the 1967 war.
For 19 years, between 1948 and 1967, the city was split between warring Jordanian and Israeli forces.The Old City, including the Western Wall and Temple Mount, were off limits to Jews, as was the Mount of Olives where tombstones were destroyed and used for other purposes.

Thousands of Israelis visit Jerusalem on its Liberation Day and on the Shavuot holiday a week later, dance to the Western Wall, and march around the Old City's gates.
We present here antique pictures of the gates, some taken 160 years ago.

Click on the photos to enlarge, click on the caption to read more about each gate.
Golden Gate, Sha'ar Harachamim (Gate of Mercy, now sealed)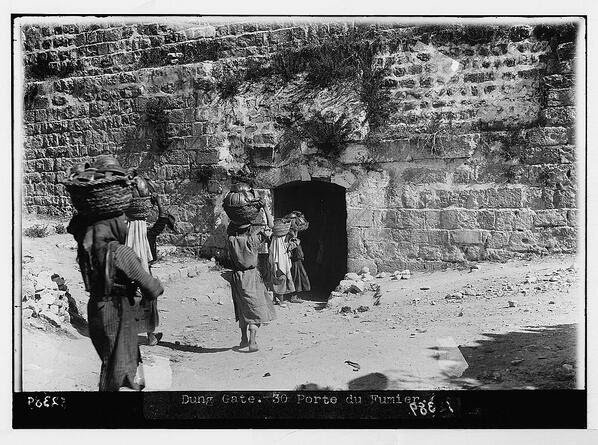 Jaffa Gate (hand colored)