Jeff Jacoby
Jeff Jacoby is a columnist for the Boston Globe.
In civilized circles, it is considered boorish to speak of Jews as Christ-killers, or to use language evoking the venomous old teaching that Jews are forever cursed for the death of Jesus. Those circles apparently don't include the
Sabeel Ecumenical Liberation Theology Center
, an anti-Israel "peace" organization based in Jerusalem, or its founder,


None of this is to say that Apartheid doesn't exist in the Middle East.


the Anglican cleric Naim Ateek.
Sabeel and Ateek are highly regarded on the hard-line Christian left and regularly organize American conferences at which Israel is extravagantly denounced by numerous critics. So far this year, such conferences have been held in Cleveland, Berkeley, California, and Birmingham, Alabama;
another begins Friday
at Boston's Old South Church.
Just as critics of the United States are not necessarily anti-American bigots, critics of Israel are not necessarily biased against Jews. But Sabeel and Ateek's
denunciations of Israel
have included imagery explicitly linking the modern Jewish state to the terrible charge of deicide that for centuries fueled so much anti-Jewish hatred and bloodshed.
"In this season of Lent, it seems to many of us that Jesus is on the cross again with thousands of crucified Palestinians around him," Ateek has written, envisioning "hundreds of thousands of crosses throughout the land, Palestinian men, women and children being crucified. Palestine has become one huge
Golgotha
. The Israeli government crucifixion system is operating daily."
In a sermon titled "The Massacre of the Innocents," Ateek similarly condemned the "modern-day Herods" in Israel's government - a reference to the evil king who the New Testament says
slaughtered the babies of Bethlehem
in an attempt to murder the newborn Jesus. In another sermon, Ateek portrays Israelis as having "shut off the Palestinians in a tomb... similar to the stone placed on the entrance of Jesus' tomb."
In Ateek's metaphorical telling, in other words, Israel is guilty of trying to murder Jesus as an infant, of killing Jesus on the cross and of seeking to prevent his resurrection. To use "this imagery in reference to the Jewish state is inexcusable," says
Dexter Van Zile
, a layman in the United Church of Christ who serves on the executive committee of
Christians for Fair Witness on the Middle East
. Millions of Christians would doubtless agree.
Writing in the
Journal of Ecumenical Studies
in 2004, Adam Gregerman
observed
that "liberation theologians" like Ateek and others whose work has been published by Sabeel "perpetuate some of the most unsavory and vicious images of the Jews as malevolent, antisocial, hostile to non-Jews.... These critiques lead to a demonization of the Jews.... As such, liberation theology impedes rather than fosters any serious attempt at understanding or ending the conflict between the Israelis and Palestinians."
Exemplifying Sabeel's grotesque demonization of the Jewish state is the theme of its Boston conference: "The Apartheid Paradigm in Palestine-Israel." It is hard to imagine an uglier slander.
Apartheid
was the racist and dictatorial system through which South Africa's white minority government ruthlessly repressed the country's large black majority,


Ateek... condemned the "modern-day Herods" in Israel's government.


systematically denying them political rights and relegating them to third-class education, housing and employment.
Israel, by contrast, is a flourishing democracy based on tolerance, individual liberty and the rule of law. Israeli citizens of every race, ethnicity, and religion - and both sexes - exercise the right to vote and enjoy identical civil and political liberties. Within Israel's parliament, about 1 member in 10 is Arab; there is even a mosque within the Knesset for the benefit of Muslim parliamentarians.
Arabs and other non-Jews serve in Israel's government ministries and foreign service, on its courts and in the military. From the Arab beauty who was crowned
Miss Israel
to the country's Arab
soccer stars
, from Israel's
lively Arabic-language media
to the Arab students in Israeli universities, the evidence of Israel's democratic equality is overwhelming and ubiquitous.
It is true that in response to deadly terrorist attacks by Palestinians from the West Bank and Gaza, Israel has been forced to adopt stringent security measures, such as the protective fence between the West Bank and Israel proper, or the checkpoints at border crossings. These are unpopular and inconvenient, but they have
saved
many Israelis - Arab and Jew alike - from being murdered or maimed. Checkpoints and fences can always be removed when the bombings and incitement end, but lives lost to suicide bombings can never be replaced.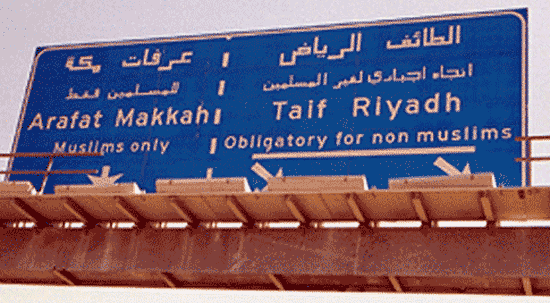 Yet, rather than explore such all-too-real Apartheid, Sabeel's conferees instead denounce the freest nation in the Middle East. As they gather in Boston this week, they might reflect on the words of Martin Luther King:
"I see Israel as one of the great outposts of democracy in the world," King declared in 1968, less than two weeks before his death, "and a marvelous example of what can be done, how desert land can be transformed into an oasis of brotherhood and democracy."
The foregoing article first appeared in the Boston Globe on Sunday, October 21, 2007.