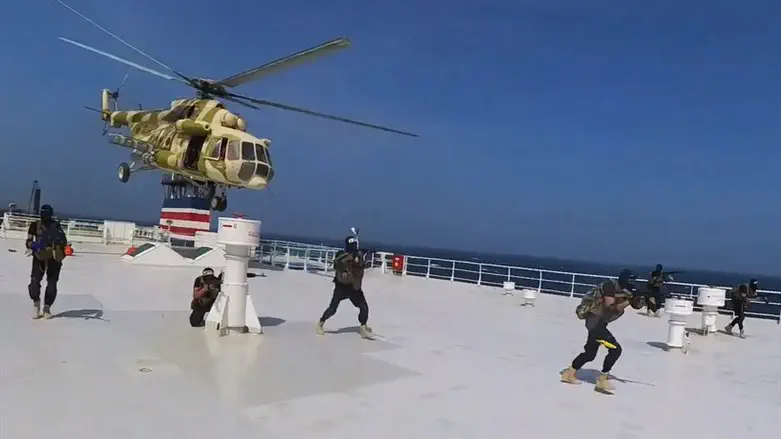 Houthis hijack ship in the Red Sea
Screenshot
President Isaac Herzog on Monday evening commented on the hijacking by Yemen's Houthi rebels of a cargo ship in the Red Sea.
"If any further proof were needed that Iran's network of terrorism and chaos is threatening the world, now comes the news that another Iranian proxy force, the Houthi militia of Yemen, has seized a merchant ship in international waters. Armed pirates hijacked the vessel 'Galaxy Leader,' en route to India from Turkey through the Red Sea, in broad daylight. They announced their intent ahead of time and publicized footage glorifying the attack while the international community watched and did nothing," Herzog wrote in a post on X.
"The forces of chaos and barbarism which attacked Israel on October 7, violating not just our borders and our citizens but every norm dear to the civilized world, are now moving into piracy on the high seas. Iran and its proxies – Hamas in Gaza, Hezbollah in Lebanon, and the Houthis in Yemen – are attacking not just Israel but the international order. This new outrage should make clear to the world that the engine of evil and hate, the regime in Tehran, is a clear and present danger to all of us," he added.
"The international community must take forceful action to respond to this threat. All nations who value order and freedom must find their voice and act decisively – now," stated Herzog.
Saudi media outlet Al-Hadath reported on Sunday that the Galaxy Leader was an "Israeli cargo ship".
It was later clarified that the ship is under British ownership, is managed by a Japanese company, and had no Israeli citizens on board.