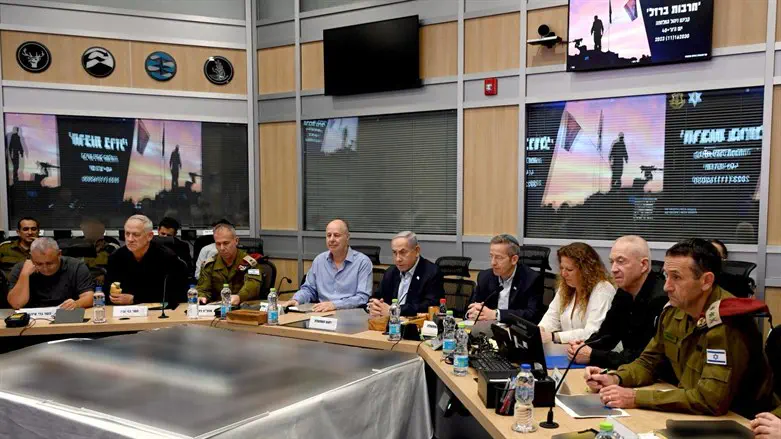 War Cabinet meeting
Haim Tzach/GPO
Following a series of leaks from Cabinet meetings, the Prime Minister's Office is advancing a proposal that would call for anyone who had taken part in such a meeting to be subject to a polygraph test at the direction of the Prime Minister, Kan11 News reported.
According to the proposed legislation, which is still in the early stages of deliberations, the tests will be carried out within a period to be determined by Netanyahu. The Attorney General, directors of the security services, and various officials will also be subjected to testing.
Prime Minister Netanyahu himself will be exempted from such tests because he has an implanted pacemaker. His office nevertheless published a statement that he would be the first to be tested should the legislation pass.
Approximately a month ago, the head of the National Security Council, Tzachi Hanegbi, sent an urgent letter to the head of the IDF Military Censor Department, Kobi Mandelblit, demanding that he forbid the publication of any details of the Cabinet's meetings.
Hanegbi stated that the ongoing publications from Cabinet meetings, that had been cleared by the censor, had caused serious, verifiable, and immediate damage to state security, and they were to be stopped immediately.
A week before the letter, Cabinet Ministers were presented with the unusual demand to sign a special NDA which states that Cabinet meetings are to be treated with the same secrecy as matters of state security. The demand came after a leak from a Cabinet meeting in which the Cabinet was told that Israel had almost bombed Lebanon due to mistaken identification of an aircraft in northern Israel.