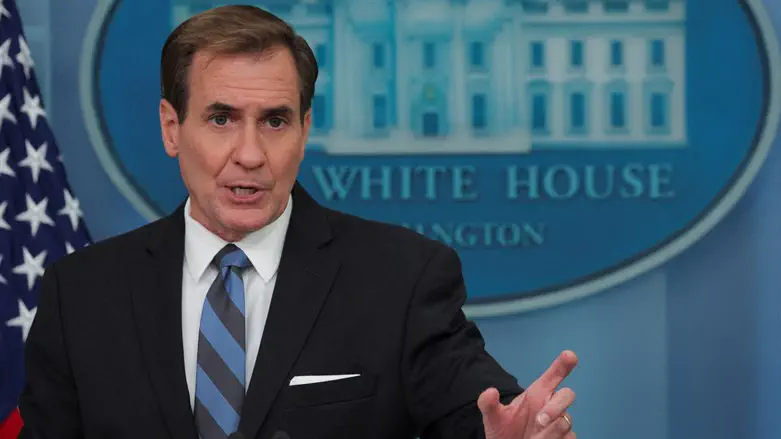 John Kirby
REUTERS/Jim Bourg
White House National Security Council spokesperson John Kirby said that a potential deal to free the nearly 240 hostages who have been held by the Hamas terrorist organization since October 7 is "closer" than ever,
"We're closer now to a hostage deal than we've been before," Kirby told reporters today (Monday).
Kirby criticized the anti-Israel protestors and activists in the US who accuse Israel of committing a genocide, saying that "this word 'genocide' getting thrown around in a pretty inappropriate way by lots of different folks."
"Israel is not trying to wipe the Palestinian people off the map. Israel is not trying to wipe Gaza off the map. Israel is trying to defend itself against a genocidal terrorist threat. So if we're going to start using that word, Fine. Let's use it appropriately," he said.
However, he added that in the US government's opinion, "yes, there are too many civilian casualties in Gaza. Yes, we continue to urge the Israelis to be as careful and cautious as possible."
When asked about Gaza's future following the current war between Israel and the Hamas terrorist organization, he reiterated the administration's position that the Palestinian Authority should be restored to power in Gaza.
"What it looks like is going to depend on the Palestinian people. but what he's referring to, there is a Palestinian Authority that has the credibility, has the legitimacy, has the authority, has the support of all Palestinians, so that they can effectively help with post-conflict governance, particularly in Gaza," he said.
Yesterday (Sunday), Israeli Prime Minister Benjamin Netanyahu rejected calls to have the PA rule Gaza after Hamas is removed from power.
"Today, the Palestinian Authority in Ramallah said something utterly preposterous. It denied that it was Hamas that carried out the horrible massacre at the nature festival near Gaza. It actually accused Israel of carrying out that massacre. This is a complete reversal of truth," Netanyahu said.
"Abu Mazen (Mahmoud Abbas), who in the past has denied the existence of the Holocaust, today is denying the existence of the Hamas massacre, and that's unacceptable," he added.
"My goal is that the day after we destroy Hamas, any future civil administration in Gaza does not deny the massacre, does not educate its children to become terrorists, does not pay for terrorists, and does not tell its children that their ultimate goal in life is to see the destruction and dissolution of the State of Israel. That's not acceptable, and that is not the way to achieve peace," he concluded.