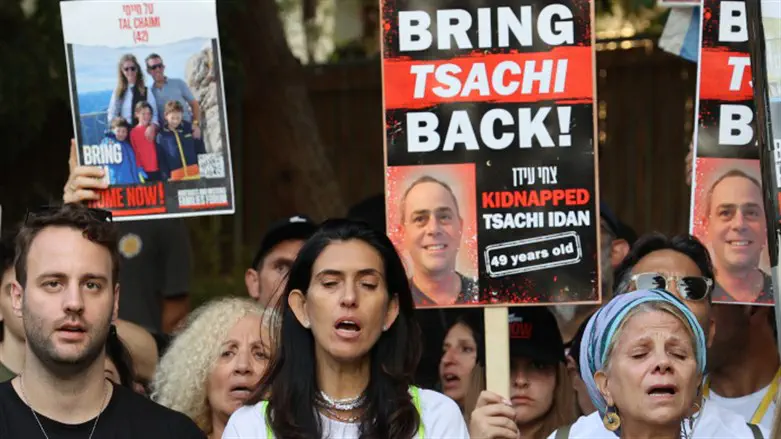 Hostages' families
Jonathan Shaul/Flash90
An Egyptian source has told the Wall Street Journal that the prisoners to be included in the prisoner swap will not be affiliated with Hamas.
According to WSJ, Hamas is demanding that the hostages and terrorists be released in stages, with Israel releasing underage terrorists during the first stage, in exchange for 50 women and children who are among the hostages.
"Under a proposal under discussion Sunday, Hamas would release a number of women and children kidnapped during the Oct. 7 attacks for around the same number of Palestinian women and children held in Israeli prisons," WSJ quoted "Egyptian officials close to the talks" as saying.
The source also said that one of the proposals would see Hamas release approximately 50 hostages on the first day of a five-day pause in the fighting, with ten more hostages released on each subsequent day. The terror group also said that it would not separate mothers from their children when releasing the hostages.
Some of the exchanges would take place at the Rafah Crossing, the Egyptian sources said.
Earlier on Monday, a diplomatic source told Kan Reshet Bet that although there is progress in negotiations for a prisoner swap, the discussions regarding an imminent ceasefire are "a joke."
"There is progress on negotiations to release some of our hostages, but nothing is settled yet," the source told Kan Reshet Bet.