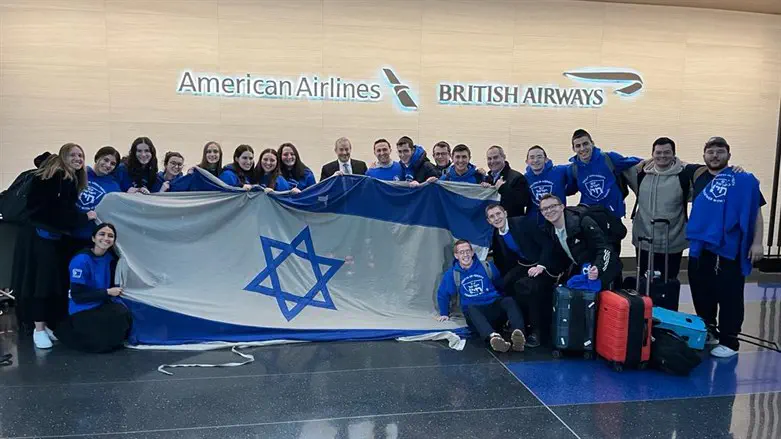 The Yeshiva University delegation
Yeshiva University
On Sunday, a delegation of 40 Yeshiva University students, rabbis, and faculty, embarked on an independent solidarity mission to Israel.
This mission, named Operation Torah Shield 3 (OTS3), is set to be the third YU student-organized solidarity mission to Israel. It follows in the footsteps of previous missions: OTS1 carried out during the Gulf War, and OTS2 during the Second Intifada.
Notable participants in Operation Torah Shield 3 will include Rabbi Meir Goldwicht (YU Rosh Yeshiva) and Rabbi Reuven Brand (Rosh Kollel of YU Torah Mitzion Kollel of Chicago).
Yeshiva University student leaders built the OTS3 mission to Israel in collaboration with Kumah (a nonprofit organization) to bring a group of 40 YU students from both the YU Stern and Wilf campuses on a week-long mission to serve and help out on a multitude of fronts across Israel.
The itinerary will include helping Israeli farmers with their crops, providing activities and programming for the victims and families of terror, and showing support and solidarity with the IDF soldiers who are risking their lives to protect the Jewish people.
The YU student organizers and student mission participants directed fundraising for the project with added financial support from Dr. Joseph Frager, Rabbi David Katz and Jonathan Burkan of the Israel Heritage Foundation and organizational support from Kumah NonProfit founded and run by Rabbi Yishai Fleisher (a graduate of YU and Cardozo Law and currently Spokesman for the Jewish Community in Hebron).
"We are proud to take the leadership role in paving the way for yeshivot, day schools, synagogues and communities to join this effort and stand with Israel. This is our responsibility as the flagship Jewish university," said Rabbi Dr. Ari Berman, President of Yeshiva University.
"I am inspired by our students who have planned and are joining this mission. This is a historic moment and by going on this mission our students are responding to the call of history."