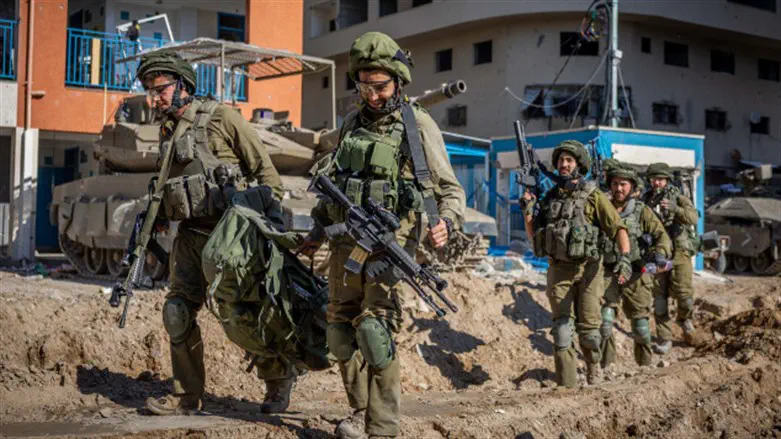 IDF soldiers in Gaza
Yonatan Sindel/Flash90
An IDF Lieutenant Colonel was recently dismissed after he entered the Gaza Strip without authorization from his command, Israel Hayom reported on Monday.
The officer entered Gaza with the Givati Reconnaissance Unit and did not agree to leave and continue his military position at the Center for Ground Exercises against the instruction and order from his command.
The officer, who fought against terrorists on October 7th, very much wanted to actively participate in the ground operation in the Gaza Strip and decided to join the Givati Reconnaissance Unit, which was one of the first units to enter the battlefield and carry out significant operations.
For two weeks, the officer refused to leave the Gaza Strip, deciding to stay there on his own accord and fight against the explicit orders that were given to him by his direct commanders at the Center for Ground Exercises. In the end, the commander of the Givati Reconnaissance Unit forced him to leave the Gaza Strip.
Upon leaving, the commander of the Training and Exercises Command, Maj. Gen. David Zini held a hearing and decided to remove him from his post as the head of a branch in the center after he abandoned his post without permission and did not agree to leave the Gaza Strip despite receiving a clear order to do so. Following the hearing, the officer was placed in a temporary office position.
The IDF Spokesperson responded to Israel Hayom's request for comment: "Upon leaving the fighting, the officer was summoned to a hearing and removed from his post. This was after he joined the forces in the field without authorization and left his post at a time when there was an essential need to train the reserve units for battle. The IDF sees such incidents with severity."