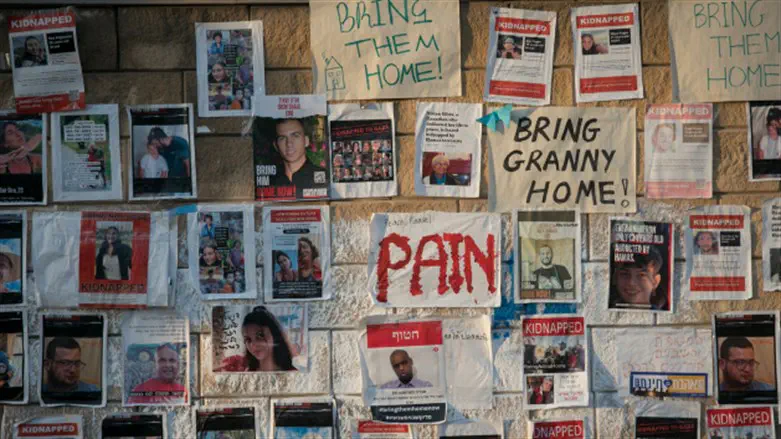 Photos of the hostages, on a wall in Tel Aviv
Miriam Alster/Flash 90
A diplomatic source said Monday morning that although there is progress in negotiations for a prisoner swap, the discussions regarding an imminent ceasefire are "a joke."
"There is progress on negotiations to release some of our hostages, but nothing is settled yet," the source told Kan Reshet Bet.
On Sunday night, the war cabinet held a meeting to discuss a possible deal. Participating in the meeting were the Mossad chief and the head of the intelligence staff tasked with locating those kidnapped and missing.
Sources familiar with the details said that a deal would see women and children released, in exchange for a temporary but multi-day ceasefire and the release of female terrorists and underage terrorists who were convicted of crimes other than that of murdering Jews.
The sources also said that the hostages would be gradually released during the ceasefire, the length of which will be set in accordance with the number of hostages released.
Lebanon's Al-Akhbar newspaper reported that Hamas is demanding a five-day break in the fighting, while Israel is insisting on no more than three days. In addition, the terror group demanded that the IAF cease its intelligence activities in northern Gaza, but Israel agreed to cease activities only in southern Gaza.
The paper also said that Hamas is demanding that those terrorists who are released in the swap not be arrested or harmed after the swap is completed.