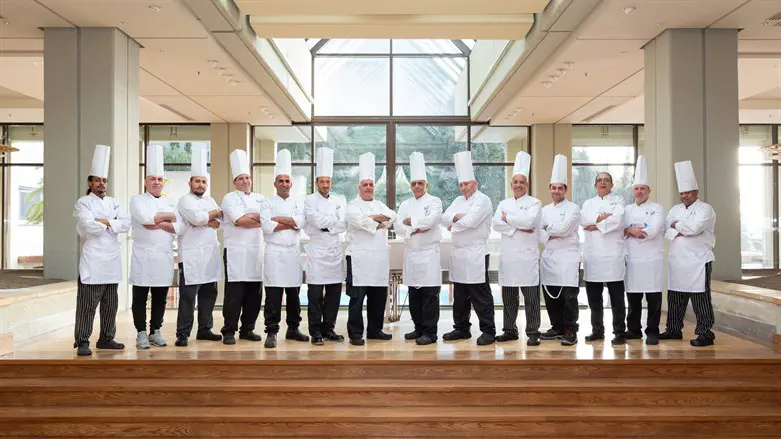 Shainfeld Tours:
Yishai Yerushalmi
Picture a perfectly located hotel nestled in the heart of one of Europe's most enchanting cities, a daily adventure visiting three captivating countries, delectable kosher cuisine that's a feast for the senses, and a warm, welcoming team of experts catering to your every need.
Shainfeld Tours has masterfully blended these elements, making their summer vacation a resounding triumph. "We've explored the world, but Shainfeld Tours' hospitality is unparalleled," gushes the Cohen family, echoing the sentiments of countless thrilled guests.
During our stay at the Hilton Dusseldorf, we've mingled with hundreds of like-minded travelers, all concurring that this kosher vacation ranks as a top contender for the most enjoyable summer escape. Unveil the secret to your perfect summer adventure with Shainfeld Tours!
A never-ending buffet and chef-crafted delights – what more could one dream of?
Our journey with Shainfeld Tours kicked off with full flights departing from NY, bringing us to Köln (Cologne) where a special shuttle whisked us away to the Hilton Dusseldorf. The short one-hour drive went by in a flash, even for those of us arriving late in the night from an evening flight. And to our delight, a surprise awaited. The company's management and staff were bubbling with excitement, ready to greet us in a specially adorned reception hall, brimming with a delightful buffet from Shainfeld's talented kitchen maestros.
The following morning, we were greeted with a sumptuous breakfast, a delightful departure from the ordinary. Both at breakfast and dinner, the kosher and culinary dining room offered a tantalizing array of dishes. With a brigade of chefs and an ensemble of nearly 50 kitchen staff, they crafted an exciting and diverse menu. Fresh ingredients were lovingly prepared to perfection, offering a blend of health and flavor. The pièce de résistance was the dessert table, a breathtaking array of sweet indulgences. Rest assured, all the food was strictly kosher, in line with the high standards of this vacation.
Wild journeys across Germany, Holland, and Belgium!
On a kosher vacation, fabulous food is a given, but the real icing on the cake is the exploration. This time, we found ourselves not only in the heart of stunning Dusseldorf, one of Europe's hidden gems, but also with an all-inclusive ticket to three (!) incredible countries: Germany, Holland, and Belgium. What made these excursions truly unforgettable was the exceptional team of Shainfeld guides. Their vast knowledge, welcoming nature, and knack for picking out the most astonishing sites and destinations ensured every trip was an enriching experience.
We roamed the picturesque Rhine Valley and the charming streets of Cologne in Germany, hopped over to Brussels for a dose of miniature magic and explored Belgium, and, of course, had a delightful rendezvous with Amsterdam in the Netherlands. To top it off, families had tailor-made adventures at Fantasy-Land theme park, the action-packed Movie park, the captivating Dusseldorf car museum, and more.
The Shainfeld team offered a warm embrace of care and dedication.
Now, having savored delicious meals and explored vibrant destinations, let's unveil the third magical ingredient that elevates Shainfeld's vacation formula to a world-class standard. It's the unwavering commitment to service excellence and the sense of family that envelopes you from the very beginning until you touch down back in NY.
Many of us felt like lifelong members of the extended Shainfeld family. It's no wonder that countless guests go on to recommend Shainfeld Tours to their friends and relatives. A significant portion are return visitors, testament to the addictive allure of the experience. To echo the sentiments of one guest, "We admire Shainfeld for their generosity, their warm reception, their eagerness to assist and fulfill everyone's desires."
We wholeheartedly concur. In fact, having just returned from our summer in Dusseldorf, we're already dreaming about our next adventure!